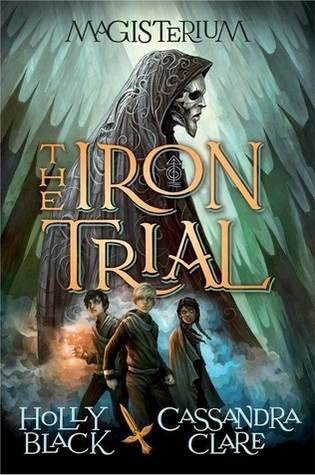 by
Holly Black & Cassandra Clare

From NEW YORK TIMES bestselling authors Holly Black and Cassandra Clare comes a riveting new series that defies what you think you know about the world of magic.
From two bestselling superstars, a dazzling and magical middle-grade collaboration centering on the students of the Magisterium, an academy for those with a propensity toward magic. In this first book, a new student comes to the Magisterium against his will -- is it because he is destined to be a powerful magician, or is the truth more twisted than that? It's a journey that will thrill you, surprise you, and make you wonder about the clear-cut distinction usually made between good and evil.
My Thoughts:
The Iron Trial
, is the first book in the
Magisterium
series and what I believe is a strong and promising start to a brilliant dark magical world. I've read a few books by Holly Black and I'm already a mega-huge fan of Cassandra Clare's
Shadowhunter
world, so I couldn't wait to see what these two authors together would bring into the written world. I don't read very many middle-grade books, with only the HP and Percy Jackson books amongst my favourites, but the minute I heard that Clare and Black were tackling magic for kids, I knew I had to get my grabby hands on the first installment. This book was such a blast and instantly loved!
First off, the storyline was made of awesome! Clare and Black took there time coming up with a fantastic story making it a shinny and new universe to want to play in. They make an amazing team. The writing is smooth, the pacing and flow of the story was perfectly pitched and I couldn't tell from one author to the next who wrote what. It was in-sync and blended strongly and beautifully throughout the entire length of the novel. There were some moments and similarities that did reminded me of the great boy wizard, but it didn't take anything away from my overall entertainment and experience. World will inevitably collide when writing about magic in a magical school setting, but I still think that this book is entirely it's own. I loved the concept of bending the elements of air, fire, water, earth and chaos with magical control. The history, secrets and prophecy were mysterious and alluring. The Devoured souls and chaos-ridden animals were a fantastical touch to the already dark and haunting setting and the Magisterium itself was filled with creepy wonderment.
The moment I meet Callum, I knew I was going to love him. He's the kind of kid that makes life interesting and has a great voice and personality. Even though he has a bad leg and practically a social-leper at school, he still has this amusing sarcastic side to him that's funny instead of bitter. He's always been taught that the school is a place of monsters, and yet apart of him wants to believe it may be a good place for someone like him despite his fears and insecurities.
Aaron is one of those great characters that is good, kind, supportive, loyal and believes in you no matter what anyone says. He's got the most to prove, but no one really to prove it too.
Tamara was a bit cold and unfeeling at the start of the book so it wasn't always easy to like her. She's under a lot of pressure from her family to succeed , but eventually Tamara becomes her own person and I love what she brought into the trio. Together, Callum, Aaron and Tamara make an amazing team. They already have each others back during some of their more challenging adventures and have great chemistry and witty banter.
There are also a lot of other characters that I loved, each of them bringing in the perfect blend of conflicts and friendships. It's gonna be a fun five years at the Magisterium with this lot.
I really loved that ending. What a shocker! I was surprised we learned the big revelation at the end of this book, but I think it makes for a rather clever and intriguing turn of events. I think we're not getting the entire picture mind you, but still, it makes me wonder just how Callum will play this out in future books and how it will impact the other characters. Very interesting indeed.
All in all, I couldn't have loved a book more! The twist and turns were crazy fun, gripping and unpredictable. The world building was remarkably creative, the writing was brilliant and these characters stole my heart from minute one. Fast paced and blast to read, The Magisterium is my new favourite world!