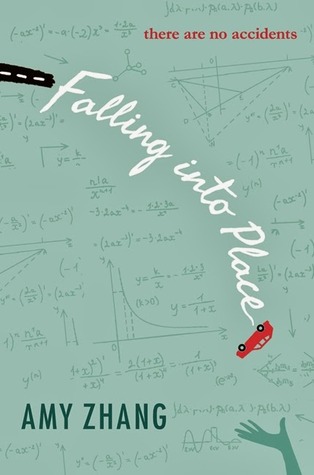 Falling into Place
by Amy Zhang
Publisher: Greenwillow books
Release Date: September 9th, 2014
Purchase:
Amazon
On the day Liz Emerson tries to die, they had reviewed Newton's laws of motion in physics class. Then, after school, she put them into practice by running her Mercedes off the road.

Why? Why did Liz Emerson decide that the world would be better off without her? Why did she give up? Vividly told by an unexpected and surprising narrator, this heartbreaking and nonlinear novel pieces together the short and devastating life of Meridian High's most popular junior girl. Mass, acceleration, momentum, force—Liz didn't understand it in physics, and even as her Mercedes hurtles toward the tree, she doesn't understand it now. How do we impact one another? How do our actions reverberate? What does it mean to be a friend? To love someone? To be a daughter? Or a mother? Is life truly more than cause and effect? Amy Zhang's haunting and universal story will appeal to fans of Lauren Oliver, Gayle Forman, and Jay Asher.
My Thoughts:
I wasn't quite sure what to think when I picked Falling into Place up. I was looking for a quick read for my road trip and this one fit and even though I am not really into contemporary at the moment I still grabbed it thinking if it didn't work at least it was somewhat short. Having taken a turn down the creepy genre lane I knew it would take a strong book to pull me in and I am very excited to say that this one did it.
I am finding out that the normal contemporary formula just isn't working for me at the moment. I need more than a broken character and cutie across the street to pique my interest. Falling into Place takes us down a road I haven't read before and I couldn't put it down. And for the first time even though I honestly couldn't stand the characters at all I still loved this to pieces. The writing and the underlining message in my opinion were so strong that the characters didn't need to be likable. If you know me then you know I never say this. I always have to like or at least feel connected in some way to the main character, but honestly I hated Liz. Yes I know I was probably supposed to feel sympathy for her, but I just couldn't. I'll get into all that in a minute, but my goodness Amy Zhang can write. Her story came alive and I just couldn't put it down. I wanted to know how everyone was connected, I wanted to learn what went through Liz' mind 5 seconds before the crash, I just wanted to know more. Zhangs writing is beautiful and I loved the addition of the imaginary friend. I will admit openly I had one as a kid and it really brought me back to that time when I needed one for various reasons. Such a powerful thing and emotion to see Liz battle her demons and know that her friend was right there the entire time.
Okay so Liz why did I hate her? Well she was "that" mean girl in high school. We all had one and in this book she was the meanest I have ever seen. The things she did I just can't forgive. She didn't have to do those things, she wasn't pressured when she got to high school. 99% of the situations she caused all by herself and she ruined so many lives. Yes I understand what her own demons were and I can sympathize with her on those, but I can't let it go that she hurt so many people. I appreciated that the author made Liz open her eyes to what she had done, but I feel like Liz took the easy way out. I am by no means saying that Liz' decision was easy or that I know what it feels like to want to give up so bad and think the world would be better off without me, but I am saying that Liz was strong and she should have fought for her life. She deserved better and I think the people that she hurt deserved better. Liz' story was sad and my heart did break for her so please don't think I am cold hearted. I just would have felt more connected to her if her problems hadn't been self inflicted. She looked at her life and everyone she hurt she did it on purpose. Just not cool.
So all that being said I still really enjoyed this book. Liz wasn't my favorite character, but I did find myself hoping that she would pull through. Again this takes a strong writer. If I don't care for a character I don't care whether they live or die, but I did want Liz to live. She needed to live and get the help she deserved. I don't think her answer was the right one and I wanted more for her.
I absolutely adore Amy Zhang and I am definitely going to keep my eye out for her future books. This contemporary book showed me that not all contemporary books have the cutie and broken character I just have to dig through a few to find the gritter ones. Wonderful powerful book that really will open your eyes to how high school really is and the stresses that young people go through everyday.
Oh and I didn't forget Liam. He was the cutie, but not really the cutie and you just couldn't help but love him. So I guess this story did have a cutie and a broken girl, but the story didn't focus on the two of them. This story was so much more than that and I appreciated that the author chose to make it more.
4 snowflakes