Every holiday season I try and read at least one Christmas story, this year I am having a bit of trouble finding just the right story since my romance meter is at full capacity. I have been searching and searching for days, but then something magical happened! The wonderful people at St. Martins sent me a copy of My True Love Gave to Me by Stephanie Perkins! My knew my search was over after opening this amazing package! I have always been a fan of Ms. Perkins and I know if anybody can pull me out of my romance funk it is her! This book though not only showcases the talented Perkins it also includes stories by Gayle Forman, Laini Taylor, and Kiersten White and so many more! If you haven't checked this book out then you really need to! This looks like the perfect holiday read and I will definitely cozy up to my warm fire...well okay I'm in Texas so I'll cozy up to my air conditioner with a light blanket and settle in for some holiday true love stories!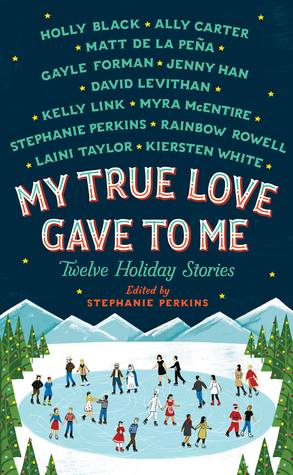 My True Love Gave to Me
by Stephanie Perkins, Holly Black, Ally Carter, Matt de la Pena, Gayle Forman, Jenny Han, David Levithan, Kelly Link , Myra McEntire, Rainbow Rowell, Laini Taylor, Kiersten White
Publisher: St. Martin's Press
Release Date: October 14th, 2014
Purchase:
Amazon
If you love holiday stories, holiday movies, made-for-TV-holiday specials, holiday episodes of your favorite sitcoms and, especially, if you love holiday anthologies, you're going to fall in love with My True Love Gave To Me: Twelve Holiday Stories by twelve bestselling young adult writers, edited by international bestselling author Stephanie Perkins. Whether you enjoy celebrating Christmas or Hanukkah, Winter Solstice or New Year's there's something here for everyone. So curl up by the fireplace and get cozy. You have twelve reasons this season to stay indoors and fall in love.