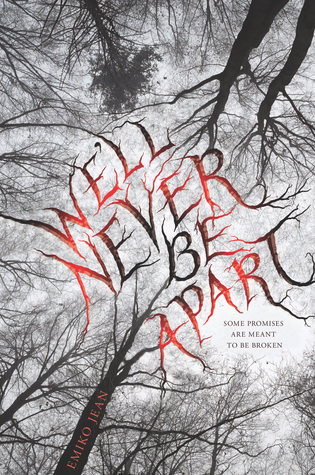 We'll Never be Apart
by Emiko Jean
Publisher: HMH Books for Young Readers
Release Date: October 6th, 2015
Murder.

Fire.

Revenge.

That's all seventeen-year-old Alice Monroe thinks about. Committed to a mental ward at Savage Isle, Alice is haunted by memories of the fire that killed her boyfriend, Jason. A blaze her twin sister Cellie set. But when Chase, a mysterious, charismatic patient, agrees to help her seek vengeance, Alice begins to rethink everything. Writing out the story of her troubled past in a journal, she must confront hidden truths.

Is the one person she trusts only telling her half the story? Nothing is as it seems in this edge-of-your-seat psychological thriller from the debut author Emiko Jean.
My thoughts:
This has such great potential and I am incredibly sad that the author strayed so far from what could have been an explosive story line. I'm so so sad *sad face*
The story starts off really good and had me looking for clues to what was really going on with Alice. See she is in a mental hospital for the second time after falsely admitting she started the fire that killed her boyfriend. Alice knows she has to protect her twin sister at all costs, but she knows she can't go on living with her sister. Celia is toxic and has pretty much ruined Alice's life from the moment their grandfather died. Now they are both in Salvage Isle and its a race to see who kills who first.
Okay see that sounds exciting right?? The story starts exactly the way I described it and we get to see flashbacks throughout the story as well, but things take a turn once Chase shows up. This is Alice's love interest and honestly he had no place in this story. I already had to read words upon words about Jason her boyfriend that died I didn't want to read more instalove and conflicting feelings because now Alice felt like she was betraying Jason. This was not what I signed up for when I read the description of this book. The whole middle up to the last chapter was filled with longing, hand holding, secret kisses, and shy looks. It just didn't fit with the whole mental institution background.
I felt like the author lost her focus, that or she had two ideas in her head and decided to combine them. I wish she would have kept to the original story! It was so good and my gawd that last chapter was chill worthy! I mean like put the book in the freezer worthy! But it was to little to late and I'm incredibly sad about it because I wanted Alice's story.
I do think the author did a good job at keeping the overall "moment" a secret. I guessed a few things early on, but I wasn't sure because of the way the story was told. On the flip side of this though there were so many plot holes when the revelation was revealed. I mean huge stare at you in the face plot holes that were kind of brought up but never explained. I wish the author would have focused more on tying up these loose ends and plot holes rather than on a relationship built on shaky foundation.
As you can see this review is full of wishes. It hurts but I can't give this story more than a one rating because it wasn't strong enough for anything else in my opinion. Take out Chase and add in more Alice and Celia and the story would have been amazing. I could have even looked over a few of the plot holes, but as it stands this story is just a crazy romance tied with a mental hospital colored ribbon.
1 snowflake