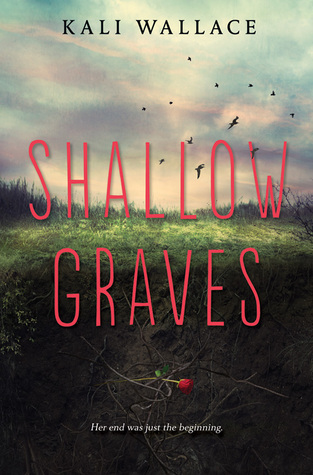 Shallow Graves
by Kali Wallace
Publisher: Katherine Tegen Books
Release Date:
Purchase:
Amazon
For fans of Holly Black and Nova Ren Suma, a gripping, hauntingly atmospheric novel about murder, revenge, and a world where monsters—human and otherwise—lurk at the fringes.

When seventeen-year-old Breezy Lin wakes up in a shallow grave one year after her death, she doesn't remember who killed her or why. All she knows is that she's somehow conscious—and not only that, she's able to sense who around her is hiding a murderous past. In life, Breezy was always drawn to the elegance of the universe and the mystery of the stars. Now she must set out to find answers and discover what is to become of her in the gritty, dangerous world to which she now belongs—where killers hide in plain sight and a sinister cult is hunting for strange creatures like her. What she finds is at once empowering, redemptive, and dangerous.

Tense, complex, and wholly engaging, Shallow Graves is a stunning first novel from Kali Wallace.
My Thoughts:
This book literally threw everything including the kitchen sink into it! What I thought was just a simple creepy thriller turned into a very strange paranormalish urban legend tale!
I can't deny that Shallow Graves starts off incredibly creepy. We have a "dead" girl who can sense killers and we get to see her take revenge on those killers. Love this! This whole idea is right up my alley and I was hooked from page one!
All that changed a bit after Breezy discovers there are others kind of like her. I don't think that part quite clicked with me and I honestly can't think of a reason why. I enjoyed the authors writing, I liked the characters well enough even the girl I was supposed to I think hate. I even liked the paranormalish/urban legend stuff. The only think I can guess is that I didn't like the two stories rolled into one. If you take the first half out and rewrite the ending to that story and if you were to write the beginning of the second half over my gawd those two books would reign over all others on my shelf. Just thinking about the possibilities gets me excited! As a whole though I feel like the author swung for the fences and just missed what she was going for.
I think some will love this as it is and maybe I am just on an island by myself. It surely wouldn't be the first time and I know it won't be the last. I am really sad though because I did enjoy so many aspects of this book. It is definitely unique and I can say with out a doubt I would read a sequel. I am curious about a few loose threads that weren't really tied up and I have a feeling I would even like the sequel more since it would deal more with the second part of the story and leave the part that didn't fit out.
So I am going with 4 snowflakes for a lot of reasons, but namely because I did like the stories even though they didn't fit and I did really enjoy the writing. Plus Breezy was a pretty awesome character OH and NO romance woohoo! Thank you Kali Wallace!! I loved the friendship that was developed and I am so glad it stayed what it should have.