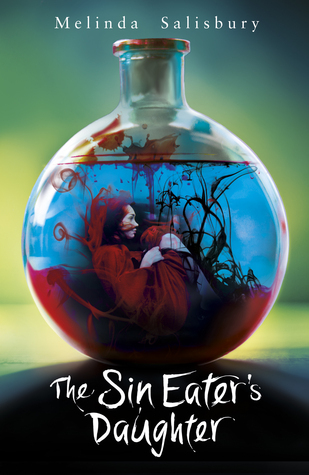 The Sin Eater's Daughter
by Melinda Salisbury
Publisher: Scholastic Press
Release Date: February 5th, 2015
Purchase:
Amazon
/
B&N
Seventeen-year-old Twylla lives in the castle. But although she's engaged to the prince, Twylla isn't exactly a member of the court.

She's the executioner.

As the Goddess embodied, Twylla instantly kills anyone she touches. Each month she's taken to the prison and forced to lay her hands on those accused of treason. No one will ever love a girl with murder in her veins. Even the prince, whose royal blood supposedly makes him immune to Twylla's fatal touch, avoids her company.

But then a new guard arrives, a boy whose easy smile belies his deadly swordsmanship. And unlike the others, he's able to look past Twylla's executioner robes and see the girl, not the Goddess. Yet Twylla's been promised to the prince, and knows what happens to people who cross the queen.

However, a treasonous secret is the least of Twylla's problems. The queen has a plan to destroy her enemies, a plan that requires a stomach-churning, unthinkable sacrifice. Will Twylla do what it takes to protect her kingdom? Or will she abandon her duty in favor of a doomed love?
Tina's Thoughts:
You know, after reading the first chapter I started to wonder if this was for me. I don't usually care for torture in my escapes, even in a fantasy setting, but I was curious, so I kept reading. And man, I'm glad I did. The Sin Eater's Daughter turned out to be a stunning, fascinating and the most unpredictable book I've read this year. There were many times I felt conflicted, but I can't deny how floored I felt once everything was said and done.
Our story starts off with Twylla who is the Daunem Embodied, she is the daughter of two Gods who ruled over the sun and the darkness. The Sin Eater's Daughter. She is gifted (or cursed) with the killing touch. A tool to queen and country and engaged to Prince Merek of Lormere. And really, that's all I'm gonna say about the storyline since everything from then on in is one giant leap of loops after the other. This is one story that takes plot-driven to a whole new level. There were so many moments in this book where I couldn't believe how far the twist and turns went. I mean, nothing is what it seems and the minute the story takes off at an entirely different directions, my head was spinning. At first I felt a little robbed. I liked the mythology of the story and while it was disturbing at times, it's what made this so compelling. Still, after we learn certain surprising revelations, I had to admit by that point I was already completely invested and couldn't wait to see how Melinda Salisbury would play this out.
Twylla is a great character but at times I was a little baffled by her actions and decisions. Although she hates her job as executioner, she plays her part well, maybe a little to well. She remains the ever loyal puppet to her queen with no rebellious action or thought. Defeated by the fate of the Gods and obedient to every command. It's not till the plot-twist do we see a different side to Twylla, when she finally sees the truth for what it is, but even then, Twylla stays constantly conflicted throughout the story and I wish I could have seen some kind of spark or fight in her.
When we first meet Leif, I found him to be annoyingly good. He was always so proper, pleasant and pleasing, and I wasn't sure how much more I could take, but then as the relationship between him and Twylla grew, I started to enjoy what he brought into the story. Hope, strength, protectiveness and love. But in true tone to this particular read, he isn't what it seems either and I still don't know how I feel about that. Surprisingly enough I actually liked Merek. I thought he would be one of the villains along with his deranged mother, but he's actually a really kind and fair man.
All in all, I really enjoyed this book. The writing is strong and intense. The storyline is filled with crazy twists, illusions, betrayal and deceit while these characters are cunning, calculating and truly standout. The ending left us on a satisfying note so I'm not sure where the story can go from here, but you wouldn't hear me complain if we got more. A great debut and a mind-bending escape!
Crystal's thoughts:
Oh boy okay let me first say that this review is just based on my reading preferences at this time. I do not think most will agree with me. Please PLEASE understand that I am not saying this was a bad book at all even though I am rating it so low, it's just that it wasn't at all what I thought and well I am left feeling meh about it regardless of the beautiful writing.
This story like I said is not what I thought it was going to be. The cover is gorgeous and definitely one of the best I have ever seen and the title I mean come on that title screams creepy right?? In the beginning the story lived up to its name and I was loving it, but when Lief entered the picture things changed. The story went from being a creepy deadly poisoned filled adventure to a pining girl who falls in love contemporary.
Everything I loved about the beginning was taken away rather quickly and I was left with a contemporary novel. Is this bad..not if you like contemporary novels, but for this is bad. I'm not a contemporary fan at all these days and when this story took that turn I was left with not a whole lot to be interested in.
I loved the Sin Eating and the God lore that was entwined throughout the story, but they were all in the background. I wish the author would have focused more on the Eating. I was incredibly interested in that and well for that being the main title I kind of expected more on that plotline. It's in the story, but takes a big backseat unfortunately. Honestly at times it felt like the author had three really great ideas and just didn't know which one she liked more so she just threw them all together. This saddens me because I think each individual idea was great and could have made an amazing book by themselves. Or maybe even since this is a series spread each idea out throughout each book. I don't know it just felt too crowded and I wish the author would have stayed more focused on the story instead of the romance.
The characters were okay I suppose. I didn't really connect with any of them which again is probably just me.
Twylla wasn't bad, a bit naive but not horrible. She was really dealt a bad hand and in the end I'm glad she made the decision she did. She needed to come to terms with her choices and I think she did the only thing that was right for her. Merek and Lief were also just okay. I think they both wanted to use
Twylla and that didn't set well with me, but again they weren't terrible just too self serving. Now the Queen I would have loved to have known more about. Was she crazy hell yes! But that's where my reading tastes are at the moment. The more crazy the character the more I want to know them. She was crazy from lots of different reasons and I am not saying I agreed with her one bit but she was interesting and did a lot of unthinkable things.
The one thing that really bothered me about this book was the ending. This big twist that was dropped never got resolved and while I know this is a series I just don't get where it even fits in to the overall storyline. I think this book would have worked a lot better as a contemporary historical fiction. It doesn't need the added Lore and fantasy elements because they both get dropped by the wayside towards the middle to end of the book. I think it would have been a stronger book if those things were dropped and if in the mood to read that genre I would have appreciated it more.
This is just me though. I know romance is heavy in YA especially right now so a lot of readers will devour this and love every minute. I am swaying more towards the romance being in the background right now so this wasn't for me. And in my defense that cover, summary, and title are a bit misleading in my opinion so I can't take the blame for picking something up that I probably wouldn't like. Which is why I am rating this and not just saying it wasn't for me. I picked this up thinking it was going to be an amazing creepy fantasy and that wasn't what I read. Please try this book if you like fantasy with a heavy dose of romance because I do think you will like it.