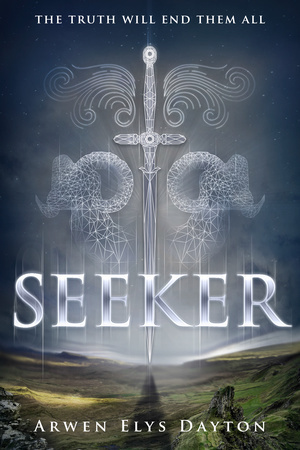 Seeker
by Arwen Elys Dayton
Publisher: Delacorte Books for Young Readers
Release Date: Feb 10, 2015
Their Legacy is…A calling. An Honor. A lie.

#SeekerSeries

The night Quin Kincaid takes her Oath, she will become what she has trained to be her entire life. She
will become a Seeker. This is her legacy, and it is an honor.

As a Seeker, Quin will fight beside her two closest companions, Shinobu and John, to protect the weak and the wronged. Together they will stand for light in a shadowy world.

And she'll be with the boy she loves—who is also her best friend.

But the night Quin takes her Oath, everything changes.

Being a Seeker is not what she thought. Her family is not what she thought. Even the boy she loves is not who she thought.

And now it's too late to walk away.
Seeker Reviews
"Fans of Veronica Roth's Divergent, Marie Lu's Legend, and Suzanne Collins's The Hunger Games series: your next obsession has arrived." —School Library Journal
"[A] powerful beginning to a complex family saga . . . Dayton excels at creating memorable characters." —Publishers Weekly
"A tightly woven, action-packed story of survival and adventure, Seeker is perfect for fans of Game of Thrones." —Tahereh Mafi, author of the New York Times bestselling Shatter Me series
"Secrets, danger, and romance meet in this unforgettable epic fantasy." —Kami Garcia, #1 New York
Times bestselling coauthor of Beautiful Creatures and author of Unbreakable
My Thoughts:
You need this book in your life. I know I haven't personally met you (you being the wonderful readers of this blog) and I don't know your reading tastes, but that doesn't matter. I can guarantee that you will love this book. It will be in your top 5 of all time and you will have all the feels for days to come...I solemnly promise this to be true.
Have your attention yet?? Did you run to your nearest online store and order this? What in the world are you waiting for?? Okay here let me list all the reasons why you need this...
1. The setting is over the top amazing. The setting is in Scotland and Hong Kong which is super different and fun. I myself get tired of the same ole high school setting in the middle of some small town so having this story set in a whole other country was awesome. The scenery background descriptions were so vivid and I felt like I could really see what the author envisioned.
2. The world building OMG the world building. If you are like me you have probably read it all, but let me tell you you haven't read this before. Different with a huge capitol D! I loved the Dreads, the magic behind everything and just the whole immensely dark world that was created. After finishing this I am left really wanting a prequel and that almost never happens for me. I am a huge character driven reader so backstory usually never enters my mind, but with this world I want to know the hows, whys, whos and holy molys of everything. There is so much in this story that could be developed and I know I would read every bit of it if given the chance.
3. The characters where to even begin. This is the first book that I have read in maybe ever that lets a main love interest be the bad guy that he is. Do you know in the beginning that he's a baddie no, but when the time came for him to be the villain I wasn't sure if the author would let him given the whole love triangle angle that was forming, but she did it. She let him become immersed in his own life and needs. I loved this so hard. Yes there were moments of regret, but honestly this character is in so deep that I'll be devastated if he is redeemed. I want him to be the villain and I know that's weird but I do. I am crossing my fingers that the triangle is long forgotten on one end and that this particular character will get to bask in his evilness...okay not really evilness because there is a driving force behind what he is doing, but I want him to stay on his path until the very end.
I loved the other characters as well. Quinn was amazing and I get why she chose her paths when she did. I respect her and I can't wait to find out what she does with her new knowledge. She was a really strong heroine and probably one of the best I have ever read. Her moral compass is pointing in the right direction and I only hope it continues to do so.
Those three things are only the tip of the iceberg. I didn't even mention the Dreads and that whole wonderfully weird storyline. It almost felt like at times there were two different stories being told and then at the last minute they came together. I cannot wait to see what happens in the next installment. I am left hanging on the edge of my seat because I know the next book is going to be explosive! And I mean the kind of explosive you know was coming after Katniss found out about the District not being dead!! Yes that explosive!
So have I convinced you??? If you need more convincing then make sure to check out the rest of the blog tour. I promise by the end if you haven't already bought this you will have it in your cart! Oh and there is going to be a movie!!! You are a reader you know you have to read the book first!!
Blizzard Read!!
About Arwen:
Arwen Elys Dayton spends months doing research for her stories. Her explorations have taken her around the world to places like the Great Pyramid (which she explored by a single fading flashlight whe researching Resurrection), Hong Kong and its many islands, and lots of ruined castles in Scotland. She enjoys creating complete worlds inhabited by characters who charm, frustrate or inspire.
Arwen lives with her husband and their three children on the West Coast of the United States. You can follow her @arwenelysdayton on
Twitter
and
Instagram
.
Giveaway Details:
5 winners will receive finished copies of SEEKER, US only.
Tour Schedule:
2/9/2015-
Spiced Latte Reads
- Review
2/9/2015-
Supernatural Snark
- Interview
2/9/2015-
The Cover Contessa
- Guest Post
2/10/2015-
Once Upon A Twilight
- Review
2/10/2015-
Reading YA Rocks
- Guest Post
2/10/2015-
The Eater of Books!
- Interview
2/11/2015- WinterHaven Books - Review
2/11/2015-
Paranormal Book Club
- Interview
2/11/2015-
Literary Meanderings
- Guest Post
2/12/2015-
A Dream Within A Dream
- Review
2/12/2015-
I'd So Rather Be Reading
- Guest Post
2/12/2015-
Bookhounds ya
- Interview
2/13/2015-
Bookish
- Review
2/13/2015-
Bewitched Bookworms-Interview
2/13/2015-
Nerdophiles
- Guest Post