Welcome to Teaser Tuesdays! Teaser Tuesdays is a weekly bookish meme, hosted by MizB of
Should Be Reading
. Anyone can play along! Just do the following: Grab your current read Open to a random page Share two (2) "teaser" sentences from somewhere on that page BE CAREFUL NOT TO INCLUDE SPOILERS! (make sure that what you share doesn't give too much away! You don't want to ruin the book for others!) Share the title & author, too, so that other TT participants can add the book to their TBR Lists if they like your teasers! My Teaser Tuesday is for the following...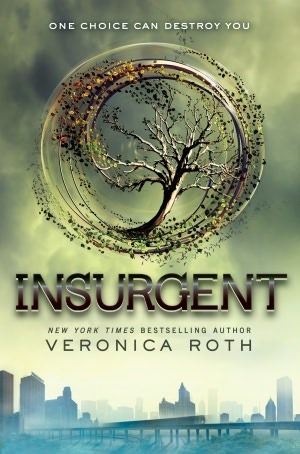 INSURGENT (DIVERGENT, #2) By Veronica Roth
Publication Date: May 1, 2012
Blurb:
One choice can transform you—or it can destroy you. But every choice has consequences, and as unrest surges in the factions all around her, Tris Prior must continue trying to save those she loves—and herself—while grappling with haunting questions of grief and forgiveness, identity and loyalty, politics and love.
Tris's initiation day should have been marked by celebration and victory with her chosen faction; instead, the day ended with unspeakable horrors. War now looms as conflict between the factions and their ideologies grows. And in times of war, sides must be chosen, secrets will emerge, and choices will become even more irrevocable—and even more powerful. Transformed by her own decisions but also by haunting grief and guilt, radical new discoveries, and shifting relationships, Tris must fully embrace her Divergence, even if she does not know what she may lose by doing so.
*TEASER FROM EBOOK PAGE 43*

"I'm not going to kiss you. I'm going to figure out what's going on," he says.
I pout my lower lip for a second, but then I grin as the pieces come together in my mind.
"That's why you like me!" I exclaim. "Because you're not very nice either! It makes so much more sense now."
"Come on," he says. "We're going to see Johanna."
"I like you, too."
"That's encouraging," he replies flatly. "Come on. Oh, for God's sake. I'll just carry you."

*Teaser from ebook Page 44*

"What did you do to her?" Tobias says, terse. "What in God's name did you do?"
"I..." Johanna frowns at me. "They must have given her too much. She's very small; they probably didn't take her height and weight into account."
"They must have given her too much of what?" he says.
"You have a nice voice," I say.
"Tris," he says, "Please be quiet."
PLEASE LEAVE A COMMENT with either the link to your own Teaser Tuesdays post, or share your 'teasers' in a comment here if you don't have a blog Thanks!