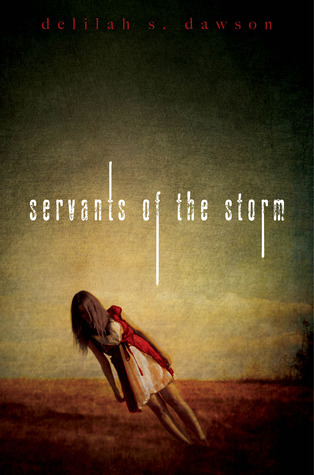 Servants of the Storm
by Delilah S. Dawson
Publisher: Simon Pulse
Release Date: August 5th, 2014
Purchase:
Amazon
A year ago Hurricane Josephine swept through Savannah, Georgia, leaving behind nothing but death and destruction — and taking the life of Dovey's best friend, Carly. Since that night, Dovey has been in a medicated haze, numb to everything around her.

But recently she's started to believe she's seeing things that can't be real ... including Carly at their favorite cafe. Determined to learn the truth, Dovey stops taking her pills. And the world that opens up to her is unlike anything she could have imagined.

As Dovey slips deeper into the shadowy corners of Savannah — where the dark and horrifying secrets lurk — she learns that the storm that destroyed her city and stole her friend was much more than a force of nature. And now the sinister beings truly responsible are out to finish what they started.

Dovey's running out of time and torn between two paths. Will she trust her childhood friend Baker, who can't see the threatening darkness but promises to never give up on Dovey and Carly? Or will she plot with the sexy stranger, Isaac, who offers all the answers — for a price? Soon Dovey realizes that the danger closing in has little to do with Carly ... and everything to do with Dovey herself.
My Thoughts:
This book was weird with a capitol W. Normally I am all about weird, but this one for me really missed the mark. I am so disappointed to because the cover was amazing and deserved a better story.
This story is about Dovey who after losing her best friend during a hurricane is on meds to help her cope with what happened. She is just numb to everything, but after seeing her best friend through a restaurant window she knows she has to go off her meds to find out what is going on. Her friend must need help right? Things go from normal weird to downright bizarre in just a few chapters and I was left wondering what was really real. Dovey goes on an adventure that leads her to demons and a realization that even she might not who she thinks she is.
The story I was mostly okay with I suppose. It was interesting, a little gross with all the pinkies being thrown around but interesting enough to keep me reading until the end. What I had a problem with the most was the long drawn out story. There were so many times that I thought this isn't relevant, or this could be cut out completely. It took forever for the story to really take off and even when it did I still felt like I was digging through too many details and scenes. Even the scenes that needed to be there were bogged down with too many details and prose.
I also didn't care for the triangle type thing that was going on. Dovey had two guys, but wasn't sure which one of them she wanted. Baker was a childhood friend who has loved her forever and Issac is the new guy helping her navigate this new and dangerous world. I didn't really care for either guy, but it bugged me that she wasn't straight with either one of them. She kisses both guys in one night...yeah I wasn't a fan at all of this. I have read several triangle storylines and some are done right this one wasn't in my opinion. And honestly the triangle wasn't even needed. The story could have stood on its own without all that. I wish the author would have chose one guy to make the love interest and left it at that.
Okay my last big complaint was the language. I know I know this is a weird complaint, but it really bugged me especially seeing this is a YA novel. The language was just not necessary and I am surprised the author chose to use it as much as she did. Every time a certain phrase would pop up I would just cringe. I am not a huge religious person but I have a limit to the times I can read a certain phrase before I start getting annoyed. I hit that number really early on. I am all for freedom of speech and the author is more than welcome to use whatever words she/he chooses but I can be irritated at those choices and deem them unnecessary. If this had been an adult book I still would have been annoyed so this should tell you something.
One more thing is this supposed to a series? That ending was really weird and if this isn't a series then I have wasted a whole day reading this. I expected some sort of closure after 375 pages so someone please tell me this is a series. I'm not saying I will read it but I will rest better at night knowing that Dovey will get revenge.
2 snowflakes