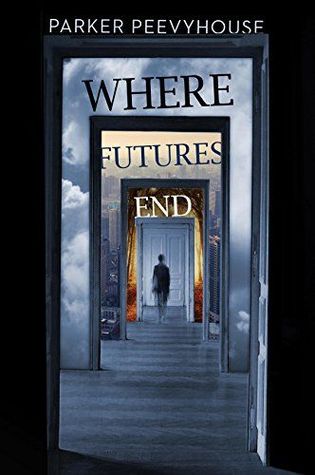 Where Futures End
by Parker Peevyhouse
Publisher: Kathy Dawson Books
Release Date: February 19th, 2016
Purchase:
Amazon
Five teens.
Five futures.
Two worlds.
One ending.

One year from now, Dylan develops a sixth sense that allows him to glimpse another world.

Ten years from now, Brixney must get more hits on her social media feed or risk being stuck in a debtors' colony.

Thirty years from now, Epony scrubs her entire online profile from the web and goes "High Concept."

Sixty years from now, Reef struggles to survive in a city turned virtual gameboard.

And more than a hundred years from now, Quinn uncovers the alarming secret that links them all.

Five people, divided by time, will determine the fate of us all. These are stories of a world bent on destroying itself, and of the alternate world that might be its savior--unless it's too late.

My thoughts:
Have you ever read a book and just didn't get it, but wanted to so badly? Well this is me right now. I feel like I am totally missing out on some huge secret and I don't like it at all. I want to like this book and I want my intelligence to understand what the author was trying to say to me, but I just don't get it.
The story started out really interesting. We have Dylan who is obsessed with the Other Place which I think and I'm pretty sure I'm right is Fairy. Now I could be wrong, but it felt like that was what the author was going for. Don't think Melissa Marr's world, but more like a fairy tale happy place with adventures...maybe Peter Pannish?? I don't know but anyway Dylan wanted to go back there because he felt like that was where he belonged. The story was weird from the start, but I understood it because the author did a great job cluing her readers in. Things slowly fell apart after that first part though for me.
This book is broken down into parts instead of chapters and the second part takes place ten years later and the world is a very different place. It all felt really sad to me. I kind of got the feeling like maybe the author was predicting our future because it was all very technology based and not in a good way. Think YouTube but way way bigger. This second story I understood too for the most part, but it didn't really connect much with the first. The Other Place was in there and a few other things, but not enough for me to connect the dots.
I trudged on though because I did like the writing and the story was still really interesting. This third part though was a little more different and while I still got it I started to really question where this was all going. This part was sadder than the previous ones and honestly made me scared. I don't think this could happen but it does make you think about where our world is headed.
The fourth part really made me think. This part was about a gaming world and was again sadder than the other parts. The Other Place and Dylan were still the only connecting lines throughout the stories and at this point I had no idea where the author was going. I had a hard time understanding this part because it was so very different than what my imagination could grasp so I was left feeling left out. Now that I am thinking of it every part felt like a short story. They all had a common thread, but nothing really connected them.
At the end I totally lost it all. This last part takes place more than one hundred years from the start and I have no idea what this story was supposed to be about. I feel like it has some higher meaning and I honestly feel a little stupid for not understanding it. I don't like when stories make me feel this way. I want to get it and I wanted to fall in love with this book because it had my name written all over it, but I'm left feeling very disgruntled, sad, and a little upset. I'm going to look through other reviews to see if it's just me and hopefully I'll find some clarity for this story because I feel like it should have been great and enlightening. Maybe I'm just reading too much into I don't know, but I'm completely lost after that last chapter.
I don't even know what to rate this honestly so I am for the first time ever not going to rate a book that I finished. I can't rate something I didn't understand in my opinion so there you go no rating and a review filled with I don't get its....sorry.