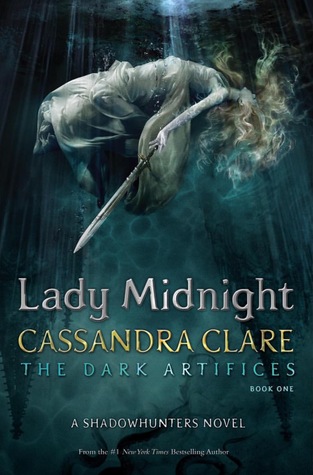 Lady Midnight
by Cassandra Clare
Publisher-
Margaret K. McElderry Books
The Shadowhunters of Los Angeles star in the first novel in Cassandra Clare's newest series, The Dark Artifices, a sequel to the internationally bestselling Mortal Instruments series. Lady Midnight is a Shadowhunters novel.

It's been five years since the events of City of Heavenly Fire that brought the Shadowhunters to the brink of oblivion. Emma Carstairs is no longer a child in mourning, but a young woman bent on discovering what killed her parents and avenging her losses.

Together with her parabatai Julian Blackthorn, Emma must learn to trust her head and her heart as she investigates a demonic plot that stretches across Los Angeles, from the Sunset Strip to the enchanted sea that pounds the beaches of Santa Monica. If only her heart didn't lead her in treacherous directions…

Making things even more complicated, Julian's brother Mark—who was captured by the faeries five years ago—has been returned as a bargaining chip. The faeries are desperate to find out who is murdering their kind—and they need the Shadowhunters' help to do it. But time works differently in faerie, so Mark has barely aged and doesn't recognize his family. Can he ever truly return to them? Will the faeries really allow it?

Glitz, glamours, and Shadowhunters abound in this heartrending opening to Cassandra Clare's Dark Artifices series.
My Thoughts:
Well dame! Here I thought nothing could beat
The Mortal Instrument
series, but I was sadly mistaken. The first book,
Lady Midnight
,
The Dark Artifices
series, is absolutely brilliant!! At this point I can't say that it's better then the TMI books (
yet
) but I have a feeling by the time this series is over I'll be singing a different tune. Already, Lady Midnight has surpassed my deepest expectations. It has shiny new characters that had me instantly, and I mean
instantly
invested. It's plot is thick in the Shadowhunter world complete with demons, warlocks, faeries and
parabatai
and was always kept moving with action, fascination and a romance that is burning with devotion and forbidden longing. Seriously, I am overwhelmingly hooked in this world and physically pained that I have to wait years before everything is said and done. It hurts!

Cassandra Clare has always been a fantastic storyteller but I love her growth as a writer. This book felt more mature in ways but still has that classic Clare sass and wit she brings to her characters. The plot itself is more intense, more brutal as we're dealing with a serial killer butchering humans and fair-folk with the same markings that were on Emma Carstairs' parents when they were found murdered. Emma, obsessed with revenge, will do anything to find who is responsible, is persistently investigating against Clave rules, but it would also seem that she's not the only one who wants to see justice prevail. The plot is action packed and pulse pounding entertainment that I expected in a Cassandra Clare book but it has also has so much depth and heart that it shattered me in two. I was impressed and surprised with how much love-story we get in this installment. Clare doesn't hold anything back or shy away compared to the TMI books. Those characters were more conflicted towards their emotions, which was perfect and maddening for how that story was told, but in Lady Midnight, I thought the romances were more of a significant element, that didn't exactly take over the initial plot but felt just as important (if not more) for the overall series. I also love that we learn more about the

parabatai vow in this book more so then the first series. I have a clearer understanding of what it truly means and trying to reason the hell out how to get around it for my favorite

parabatai couple. Clare truly is a master for bringing in that anxious longing and incredible rush of a forbidden romance that can't be denied and

I can't wait to see how this plays out!!!!

With every new series introductions are in order and while some readers might find the beginning chapters tedious, I for one loved getting to know these characters and back-stories on a deeper level. I thought it was so smart of Clare to introduce most of these characters in the last TMI book. I was already connected to them but I don't think I was prepared to absolutely love them this much. I adore the Blackthorn family!!! I can't believe how relatable and likeable each of these characters are and I absolutely love the family togetherness and close friendships laced throughout the story. Julian, Mark, Livvy, Ty, Dru, Tavvy, Emma and Cristina. Everyone was put together beautifully with great personality and sharp voices. I think those were some of my favorite moments, when the family is just there eating and researching and being together. It was extremely touching and funny and warm and I loved how each of them were so easy to connect with. I loved them all, but I think my favorite three are Julian, Emma and Mark. I can't express how amazing Julian is. To raise his four brother and sisters at the age of twelve, taking care of the institute and his fragile uncle is more responsibility then one should endure at such an age. I have nothing but love, respect and admiration for Jules. Emma is also so amazing and while obsessive revenge can start to wear thin in books, I found myself cheering her on the whole way through. But the most surprising of all the characters was Mark. He has a sad story, he's been tortured and tormented by the Wild Hunt, he's this feral, unhinged shell of a man and my heart bleed for him. But as the story goes on, Mark becomes a little more confident but still just as lost. His child-like reactions were absolutely adorable, hilarious and charming and I loved how wise and whimsically spoken he can be. Truly, he was an absolute joy and a breath of fresh air! I also can't forget to mention a few more characters that made an impact in this book, whether it be good or bad; Malcolm, Kieran and Diego. My heart is still undecided about Kieran. He did something pretty dame unforgivable, but I don't think it's the last we see of him. TMI fans will also be happy to know that their favorite characters do make an appearance and mentioned often throughout the book. I didn't read

The Shadowhunter Academy book yet since I'm waiting for the physical copy to release, so I was surprised and delighted to discover a few things that happened after TMI ended. We even get a special bonus chapter that I was a little floored by. The word,

dreaded, is scaring the crap out of me, so yeah, need more of that please!
Bottom line, Lady Midnight is Epic!!! This has it all my friends. A great demonic mystery, twist and turns and surprises. Fantastic world building and storytelling and an all consuming love story that tore my heart over and over again and all I want is more, More, MORE!! Completely absorbing, completely amazing, completely addicting as hell! This world is still my all time favorite escape!!

LOVED!!!!!!!