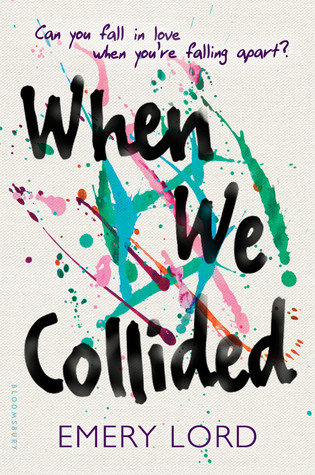 When We Collided by Emery Lord
Publication Date - April 5th, 2016
Publisher - Bloomsbury USA Childrens
Meet Vivi and Jonah: A girl and a boy whose love has the power save or destroy them.





Vivi and Jonah couldn't be more different. Vivi craves anything joyful or beautiful that life can offer. Jonah has been burdened by responsibility for his family ever since his father died. As summer begins, Jonah resigns himself to another season of getting by. Then Vivi arrives, and suddenly life seems brighter and better. Jonah is the perfect project for Vivi, and things finally feel right for Jonah. Their love is the answer to everything. But soon Vivi's zest for life falters, as her adventurousness becomes true danger-seeking. Jonah tries to keep her safe, but there's something important Vivi hasn't told him.
My Thoughts:
I have been a huge fan of Emery Lord ever since I read an ARC of her debut
Open Road Summer
a couple of years ago. Her characters and writing are capable to suck me right in and I can honestly say that I have shed many a tear while reading her novels. Her upcoming third YA contemporary novel
When We Collided
was no exception.
When We Collided
introduces the reader to Vivi and Jonah. Vivi is new to Verona Cove and she is in love with the little town. Jonah is a Verona Cove native and yearns to leave everything behind in order to see bigger cities, in order to be a part of something bigger. Their paths cross when Jonah takes his little sister Leah to a pottery studio and very quickly they form a bond unfamiliar to both of them from their previous experiences.
Vivi is so full of life and creativity. For most of the time it feels like she navigates her world wearing rose-colored glasses. She speaks her mind, is spontaneous and seems to love the position as a center of attention. But there is also another side to Vivi, a side affected by depression, a side she is desperate to keep at bay so she can keep going on with her joyous way of life. In contrast to Vivi, Jonah seems to have lost the joy from life he still had when his dad was alive. Taking care of his younger siblings while his mother mourns is taking its toll of Jonah, who feels like he has lost touch of the young man he used to be. When Vivi, like a wave of confetti and parade music, enters into his life, things slowly start to seem a bit better and Jonah feels like everything is not doomed after all.
The relationship between Vivi and Jonah is so well written and paced that I had a really difficult time putting this book down. The way they complement each other and add something to each other's lives is so beautifully done by Emery Lord. I also really loved how Jonah's family is a part of the novel, as well as how the relationship between Vivi and her mother is developed within the narrative.
Mental health narratives continue their popularity in young adult literature and while there have been narratives in which mental health has been used as a trope, as something that can be romanticized, Emery Lord doesn't do that. She approaches Vivi and her mental health with respect and in a way that shows research. While I am not a mental health professional or a psychologist, the things Vivi goes through and the way those things are addressed by Emery Lord rang true to me. I also highly appreciated the author's note at the end of the novel and in many ways, I was able to relate with it through personal experiences.
When We Collided
is one of those books that will make you fall in love, cry and think about your own life (at least it did that for me). The beautiful writing, the humor and the many quotable lines will stay with me forever and I cannot wait for the moment I get to add a physical copy of this next to my two other much-loved Emery Lord novels of my bookshelf.
5 Snowflakes