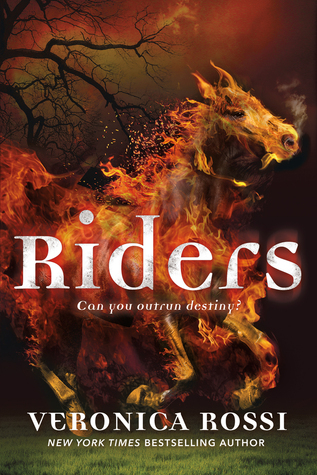 Riders
by Veronica Rossi
Publisher: Tor Teen
Release Date: February 16th, 2016
Purchase:
Amazon
Nothing but death can keep eighteen-year-old Gideon Blake from achieving his goal of becoming a U.S. Army Ranger. As it turns out, it does.

While recovering from the accident that most definitely killed him, Gideon finds himself with strange new powers and a bizarre cuff he can't remove. His death has brought to life his real destiny. He has become War, one of the legendary four horsemen of the apocalypse.

Over the coming weeks, he and the other horsemen—Conquest, Famine, and Death—are brought together by a beautiful but frustratingly secretive girl to help save humanity from an ancient evil on the emergence.

They fail.

Now—bound, bloodied, and drugged—Gideon is interrogated by the authorities about his role in a battle that has become an international incident. If he stands any chance of saving his friends and the girl he's fallen for—not to mention all of humankind—he needs to convince the skeptical government officials the world is in imminent danger.

But will anyone believe him?
My thoughts:
I really enjoyed this book and I am honestly baffled at all the negative reviews. I've been trying to stay away from them for the most part so that I could reach my only conclusion about the story, but I've seen a few and I think I must have read a totally different book than everyone else!
This story incorporates Revelations and the four horsemen. This right off the bat grabbed me. I was completely intrigued by this new idea so from the get go I was all in. I will be honest and say I am not fully in the know about Revelations so maybe this helped me enjoy the story a bit more. I thought the opening was great and I really liked the way the author chose to deliver her story. Having Gideon tell his story through an interrogation was unique and made me feel more connected to him as a character. We got to see how he felt reliving it all and the breaks in between when he would talk to the interrogator helped clarify certain spots. Brilliant in my opinion.
I did see that a few people were frustrated with the lack of movement in the story and thought it was incredibly slow. I did not see it that way. I thought everything happened for a reason and the story moved just fine for me. In so many stories I can pick the villain, the murderer, and basically call everything before I even make it halfway through the story. So for me to be left completely in the dark was nice. I also liked that there was a reason why we were left in the dark. Early on Rossi explains through Daryn why Gideon and his crew can only know a limited amount of information and I bought it. I thought it kept things interesting and for me it let my brain kinda relax. I wasn't constantly searching for clues because I wanted to let Daryn call the shots.
I also really enjoyed the characters. I wish Jode and Bas would have toned it down a bit. but all in all I can see why the author chose to make them the way she did. The other thing that bugged me a bit is that I wish they would have been a bit more badass. They are the four horsemen they should be all out amazing! What we get though is a few guys who really don't know what they are doing. This is more realistic, but for me I wanted more swagger. I'm hoping in the next book they bring it!
I do have two other gripes. One being that Gideon should have called his mom. This bugged me and bugged me and BUGGED ME! No she wouldn't have understood and yes she would have been mad, but she needed to know his was okay. I was completely frustrated that he never picked up the phone. That was a plot line that really needed to be tightened up. My other complaint is the ending. After reading the last chapter I can see where Rossi is hoping to take her readers, but I didn't like the military getting involved like they did. If this was going to be the case I would have liked a little bit more build up and involvement from them from the get go. I didn't buy them showing up like they did as quick as they did. That to me was a plot hole. I'm curious to see how this all plays out because like I said Rossi threw a few things at us at the end that helped.
All in all though even with my gripes I really enjoyed this one. I think it's a quickish read that brings a fresh new idea to the YA table. Some will love it some will hate it as I have seen, but for me it was a huge hit! And I can't wait to read the sequel!
4 snowflakes