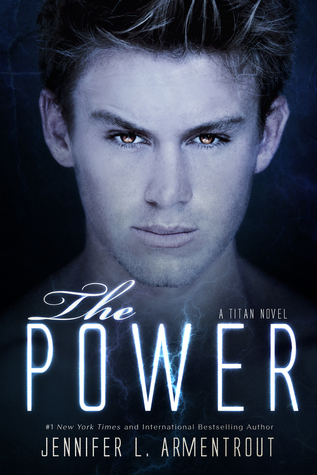 The Power

by Jennifer L. Armentrout
Publisher- Spencer Hill Press
Released- Feb 23rd 2016
Purchase- Amazon / B & N
With any great change, there is always strife, and the Covenant University has become the frontline between pure-bloods who want the Breed Order reinstated and the half-bloods who want the right to control their own destinies.

Fate has other plans.




The violence is escalating and war between the races seems inevitable, and it couldn't come at a worse time. Hyperion may be out of commission, but Josie and Seth know they have only earned a reprieve. Seth must get Josie fully prepared, which means controlling her newfound abilities, and they need to find the other demigods before the Titans do.

But the gods are sensing a greater threat.




Only one thing is more dangerous than a bunch of starved Titans, and that's an out-of-control Apollyon. The aether in Josie is drawing Seth in deeper, and when lust mixes with love and gives way to power, he knows being close to her is not only dangerous to her, but to everyone around them, but letting her go requires a level of selflessness that just isn't Seth's style.




The paths taken in the past are becoming the roads of the future.




Just as chaos breaks out, familiar faces from the past return, complicating the already strained bond between Josie and Seth, and when the danger from the Titans erupts with devastating consequences, the dark allure of power calls to Seth again, but this time Josie might not be able to pull him back.




And when the struggle between power and love becomes the deadliest battleground, there may be no salvation.
My Thoughts:
There is something to say after waiting a year to read this book and go into it like no time has actually pasted. JLA has that gift that she gives to her readers. Where her stories are so filled with exceptional storytelling that your right back in that world pinned on the lives of these characters and never ever wanting it to end.
The Power
, is another sensational installment in the
Titan
series that is pitched perfect with punched action, witty characters, laugh out loud moments and dripping with delicious sizzling romance to swoon over.

There is so much going on this time around, but everything is pretty laid out for us to process so it was great to sink into this book and simply enjoy. The Titans are still on the loose and after the demigods, the pure-blood hatred over the half-bloods are at full force and then we have Seth training Josie at the University and helping her control her new found elemental demigod powers. I have to say, I'm loving the storylines here, it's filled with a lot of action and the mythology of it all is amazingly pieced together and thought out and yes, the romance is indeed, hot as hell. But it's all of these characters; Seth, Josie, Deacon, Luke and crew that keep reigning it in. There is also a lot of unexpected character depth that I didn't think was possible, or at least I didn't expect it when it came to Seth. So good!

I'm seeing a different side to Seth that makes me want to hug him. I still want to smack him mind you. A lot. But he's showing us a side to himself that I would never have thought twice when reading the Covenant books. He doesn't actually believe he deserves happiness or even to be loved. Dame. I knew he felt guilty for Alex's fate and sure he's never had the best childhood, but Seth has always radiated confidence and power without him using his actual powers. I never expected to see such vulnerability, desperation and this fear in him that quite frankly looks dame good on him. Seth is struggling. He's struggles with the need and want of aether pulling him in, he struggles with his relationship with Josie, what he wants and doesn't want for her and he struggles with his past and his doomed future. But the question is, has Seth really changed? Yes, in ways, but no, I don't think he's changed at all. He wants to be a better person but I think he want to be a better version of himself for Josie and only Josie. It's true, when he's with Josie he's a whole different man. Someone warm and protective and kind (most of the time) but with everyone else....yeah, he's still his old infuriating jackass Apollyon-self. But even though some serious shi...stuff went down in this installment, I still believe that Seth has the power in himself to change for the good no matter what he's done.

I liked Josie in the first book but I think I was still a little unsure about how I felt about her, but she really steps up in this book in the best way possible. I enjoyed her training sessions and even though she isn't exactly mastering elements at first, I loved her determination and spunk. She reminds me of Alex in a lot of ways and one of them is her unwillingness to really hurt another soul, even an evil soul. But eventually Josie gets her confidence and proves that she can more then handle her own. But what I loved the most about her is her undeniably and unshakable faith and belief in Seth. No matter what's he's said or did, Josie is his number one fan. She loves him and that love may be the only thing that can save Seth. I do think she's slightly naive about Seth in certain aspects. I remember what Seth is capable of and so do these other characters, so I would have to agree that Josie, while I admire her belief in the Apollyon, I think needs a reality check when it comes to her Sethie. But, she has hope and yeah, here's to her proving them and me wrong.
As for the other characters, I had a total blast with Luke and Deacon and a couple of other familiar faces that returned from a certain underworld that I went cray-cray fangirling for. Seriously didn't expect to see them and I freaken screamed for joy when I did. Loved every second with them! I was sad to see a great characters die by the hands of a Titan though, but at the same time I was relieved it wasn't someone else. That sounds bad, but if say, Apollo, Luke, Deacon or the obvious four died, I don't think I'd take that very well. Like, at all.

So, the worst thing about this book is waiting another excruciating year to get my greedy reading ready hands on the next installment, cause guys, after that ending?
Dame. Dame. Dammmme! Another epic win for JLA books. She keeps giving us timeless entertainment and kickass characters that are completely freaken amazing. Fans will be begging for more! Bravo

!
Find the author:
Goodreads / Website 5 Snowflakes