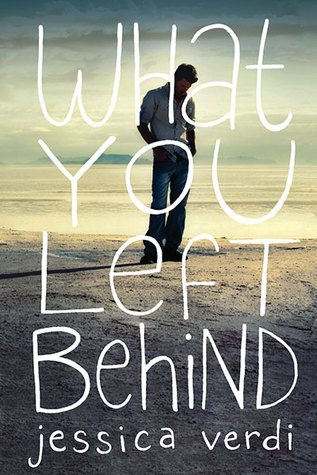 What You Left Behind
by Jessica Verdi
It's all Ryden's fault. If he hadn't gotten Meg pregnant, she would have never stopped her chemo treatments and would still be alive. Instead, he's failing fatherhood one dirty diaper at a time. And it's not like he's had time to grieve while struggling to care for their infant daughter, start his senior year, and earn the soccer scholarship he needs to go to college.

The one person who makes Ryden feel like his old self is Joni. She's fun and energetic—and doesn't know he has a baby. But the more time they spend together, the harder it becomes to keep his two worlds separate. Finding one of Meg's journals only stirs up old emotions, and Ryden's convinced Meg left other notebooks for him to find, some message to help his new life make sense. But how is he going to have a future if he can't let go of the past?
What You Left Behind
, is a powerful and heartbreaking story about being a single father and all the many obstacles that come with it. Ryden Brooks has a lot of guilt and anger weighting him down. Not only does he think he killed the love of his life by getting her pregnant, but he thinks his baby girl, Hope, hates him. Struggling between school, work, his scholarship ride to UCLA and raising a baby, Ryden is feeling the endless, sleepless pressure of a life he is absolutely not ready for. The only comfort he finds is a journal that Meg left at his house before she died but soon Ryden is obsessed with trying to find more of Megs words in hopes that they can help guide him to be a better father.
You know I never read a book like this before, I mean, I've read stories about single mothers but I've never seen the side of a single father before and I found it to be very refreshing. Jessica Verdi writing is incredibly touching and beautifully pieced together. The pace moves with constant intrigue and even has a little mystery. I loved the realistic voices Verdi gave each of her characters and the authentic emotional feelings that they go through. There were a lot of amazing moments that range from sweet and sentimental to a harsh and bitter, and the entire way through I kept putting myself in the shoes of these characters and asking myself what I would do if this was my situation? Would I have made the same decisions as Ryden or even Meg? Definitely thought provoking stuff.
My heart really went out to all of these characters. They had to face a lot of hard reality at such a young age. To say that Ryden is a little stressed and even messed up is an understatement, but given the extreme circumstances I'm proud of the way he handled everything. He had to face a lot a of highs and lows throughout this situation, some were heart-warming and even uplifting while some of the darker moments were more brutally honest then I would have liked. It's not exactly easy to hear regretting a baby or wishing it was terminated from the start. But doubts, guilt and fear have a way of bringing out the ugly in stressful moments. But even though Ryden is dealing with being a single father, mourning a loved one and juggling the endless questions about school and his future he is still just a teenage boy who made his fair of mistakes but eventually, in the end, I believe he gets it right.
Ryden's mom was truly made of awesome and I admired the love and support she gave her son and understanding what it's like being a teenage parent. I also thought it was wonderful to be able to get inside Meg's thoughts through her journal memories. She might have passed away but she was everywhere in this book and I felt like I was able to connect with her and understand her choices, even if I didn't agree with all of it. Alan and Mabel were great secondary characters who brought a lot of positive reassurance to the story and Joni was this amazing bubbly spark that made it just a little easier for Ryden to find his peace.
All in all, I really enjoyed this book. It's honest, raw and such a personal journey that had a way of grabbing my heartstrings.
Wonderful writing, unforgettable plot and amazing characters.
Very well done!