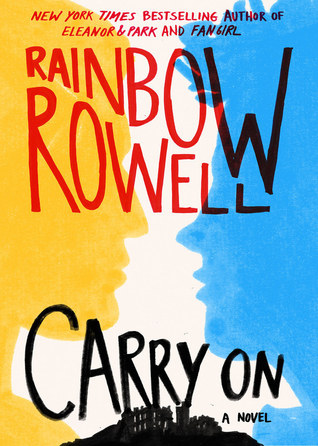 Publisher- St. Martin's Griffin
Simon Snow is the worst chosen one who's ever been chosen.




That's what his roommate, Baz, says. And Baz might be evil and a vampire and a complete git, but he's probably right.




Half the time, Simon can't even make his wand work, and the other half, he sets something on fire. His mentor's avoiding him, his girlfriend broke up with him, and there's a magic-eating monster running around wearing Simon's face. Baz would be having a field day with all this, if he were here—it's their last year at the Watford School of Magicks, and Simon's infuriating nemesis didn't even bother to show up.




Carry On is a ghost story, a love story, a mystery and a melodrama. It has just as much kissing and talking as you'd expect from a Rainbow Rowell story—but far, far more monsters.
To be honest, I wasn't sure if I was going to enjoy this book. I
adored
Fangirl but I was so obsessed with Levi and Cath that I overlooked the Baz and Simon pieces. But I was curious about this world so I picked it up and dame, I'm so glad I did!
Carry On,
turned out to be one of the most entertaining books I've read all year. It's magical, adventurous and so freaken adorably romantic.
I really loved what Rainbow Rowell did with this book. Sure, I guess it reminds me of HP but at the same time it's completely her own. I love Rowell's writing and I specially love all the little cozy details she gave this world. From the wondrous school building's and grounds, the subjects themselves and even the food they eat, it's those little things that gave this book so much soul. I even loved the quirky-yet-common spells they used, like
;
"Scooby-Dooby-Doo, where are you!"
and
"These aren't the droids you're looking for",
are just a couple of my favorites. The flow and pace of the story is perfectly pitched. This book combines the back-story, history and memories of multiple characters but it's done in a way that was always interesting instead of overwhelming. It was effortless to lose myself in this enchanting and charming world.
But really, it was all of these wonderfully put together characters that own this book for me. Simon, Baz, Penny and even Agatha have such personalities that come alive when ever they interact with one another. They have the greatest voices that drip with humour and sarcasm and the endless banter and sexual tension was deliciously applied.
Simon is the hero of our story. He's the Chosen One, the most powerful Mage who is destined to stop the war and the insidious Humdrum from sucking the Magickal world dry. Never mind that Snow botches most of his spells or he can't use his wand very well or has Penny at his side to help him rather then actual luck or talent. But Simon Snow can kick some serious ass.
Penny is the kind of sidekick that everyone needs. Smart, insanely loyal and doesn't try to outshine or take over. She's Simon's best friend and I adored her endless support and sharp wit.
Agatha was the only one I didn't seem to crazy about despite how everyone in this book refers to her as perfection. She's lovely, sure, but she also seems so lost and self absorbed and made for conflict more then anything else.
And last, but never least, my favorite character was Baz! My gawd, what an amazing character! What is it about brooding vampires that I love so much anyway!?
Baz is complicated in the best way possible. It's almost like he's mad at the entire world but he can't seem to part with it or the people who drive him to his madness. He can be driven to be this cruel and calculating person but underneath
all his angry and hatred is this warm and vulnerable side that makes him more diverse and real then the other characters.
The romance in this book, the tension in this book, the angst and drama, the love and hate? My. Gawd. This was some of the sexiest, sweet as hell and crazy adorable that I've ever read. Seriously, I could live in those moments forever!
Bottom line, Carry On, was an amazing and entertaining experience. This was imaginative, creative and just solid fun and good times. I had everything I could possibly want in an escape. Daring adventure, action and intrigue, outstanding writing and unforgettable characters that were charming, enchanting, affectionately loveable and absolutely easy to invest in and connect with from minute one. I know this is a standalone, but I'm actually so sad to see this end. Rowell is an amazing contemporary author, but she can do fantasy like no ones business. I'm gonna need more! If your a fan of
Fangirl
or just want a new spin on fantasy fun, then this book goes out to you! Instant favorite!