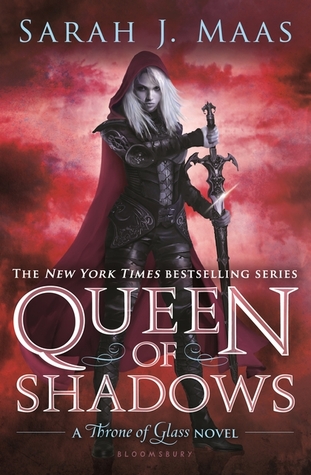 Queen of Shadows
by Sarah J. Mass
Publisher: Bloomsbury USA Childrens
Release Date: September 1, 2015
The queen has returned.

Everyone Celaena Sardothien loves has been taken from her. But she's at last returned to the empire—for vengeance, to rescue her once-glorious kingdom, and to confront the shadows of her past…

She has embraced her identity as Aelin Galathynius, Queen of Terrasen. But before she can reclaim her throne, she must fight.

She will fight for her cousin, a warrior prepared to die for her. She will fight for her friend, a young man trapped in an unspeakable prison. And she will fight for her people, enslaved to a brutal king and awaiting their lost queen's triumphant return.

The fourth volume in the New York Times bestselling series contrinues Celaena's epic journey and builds to a passionate, agonizing crescendo that might just shatter her world.
My Thoughts:
Sarah J, Maas knocks it out of the park with The Shadow Queen. It's dark, deadly, unforgiving, and one hell of an Epic story. The Shadow Queen by far is my favorite in this fantastic series. There's never a dull moment and Ms. Maas certainly knows how to throw a wrench into the mix, proving her mastery foreshadowing skills. This was everything I could have hoped for and soooo much more.
So much happened in this book that honestly, it's going to be hard to sum it up. With the many perspectives and story lines weaved in, I'm going to hit on more of my perspective vs everything that transpired.
This installment was a whopper and so much happened! Literally, my head was spinning with all the twists. Damn....she pulled those off unlike anything I've read which was impressive. The layering...wow. Just, WOW. I would have loved to be a little birdie on her shoulder while she plotted this thing out—to see how she pieced everything together so seamlessly.
At the beginning I was shocked Aelin convinced Rowan to stay behind while she sail off to Ardalan to see Arobyn and retrieve the Amulet of Orynth from him b/c it's actually a Wyrdkey and if he knew the power it possessed, trouble would abound. And I mean LET her, because we all know that Rowan wouldn't allow Aelin to get away with anything without his consent. I was certain he'd pull out some macho mojo and convince her it wouldn't happen without him, but Aelin and Rowan's relationship had transformed into more, therefor giving her more respect and control. (Though Aelin had a lover in the past, and had connected with Chaol and Prince Dorian, it was great so see the chemistry strengthen between Aelin and Rowan. I like seeing character growth, but I am a sucker for a tough girl falling in love, fighting for that chance regardless of whatever the unsure future holds.)
Aelin character went from awesome to unforgettable. Smart, cunning, and clever/sneaky as hell. But when Arobyn informed her that Aedion Ashryver (her cousin) was to destined to the gallows, her plan had to be altered. She made a deal with Arobyn. She would deliver one Valg demon (which feed on fear, misery, despair. The collars are stronger, capable of helping the demons stay inside human bodies while they devour the person and power inside) in exchange for assistance in rescuing and a safe return of Aedion Ashryver, the Wolf of the North.
The king was a cruel and awful as ever, and upped the anti by slapping one of those darn collars around his son, Prince Dorian's neck after he realized his son had magic. He would use him as his little puppet. Aelin knew what those collars did to people and hoped that Dorian could fight the prince demon inside of him long enough to be saved. In the long run, actually Manon the witch, was the only one to be able to get through to see the Prince was still in there. The demon inside was afraid of her.
I can't possibly tell you the entirety of my thoughts and everything that happened in this book, because it would be a book in itself. I'm just going to say that new friendships/understandings were developed between powerful players that I think will be essential in the next book. (Previously I wasn't a fan of the witch's pov...this changed in The Queen of Shadows.) A few characters are killed off, a few new characters are introduced (I feel one will play a vital role at some point) and unbelievable obstacles are defeated when all odds were stacked against them. Triumph came in many forms. The romantic elements added a welcomed spark to lighten some of the darker times, and I cannot wait for the next book...the next step in Rowan and Aelin's relationship as it goes to the next level (squee). The history of the clans, amulets, wyrdkeys, Fae, and the explanation from the King of Ardalan.
READ THIS SERIES PEOPLE! You won't regret it.
5 snowflakes