Today on WinterHaven Books I am super excited to be participating in the blog tour for Josephine Angelini!! I absolutely adored Trial by Fire and yes I am still squeeing over Josephine joining us today!! I also have a very special giveaway to share with you at the end!! First though check out her answers to my questions! Love love love her answers!!!
Welcome Josie!!
1. The world you created was incredibly unique, how did you come up with the idea?
When I'm worldbuilding I always try to make it feel like it's real, so everything has to be there for a logical reason. The parallel world that I created for the WorldWalker Trilogy was shaped mostly by the system of magic that I developed for that world. First I had to develop the magical system, and then I sat down and thought about what kind of world would be the result of people having that particular skill set.
For example, if magic made licorice out of nothing, than licorice would be a really cheap, and as a result, people would probably live in houses made of licorice, or their cars would run on licorice, or something like that. People make use of what's around them, and economies, technology, governments, and architecture come out of that. That's where I start when I create a world—on what's handy. Simple and logical is always best, and strangely, it can also be a source of originality.
2. If you could be Lillian or Lily which would you chose and why?
Lily, for sure. I feel bad for Lillian. After all, she is the one who lost Rowan.
3. Tristan was a horrible best friend to boyfriend character! I honestly wanted to punch him for Lily! Does he serve a greater purpose in the sequel??
It's so funny that you had such a strong negative reaction to him! When I finished the first draft I was so surprised when all of my beta readers loved him. They were all expecting Lily to be with Tristan and I couldn't figure out why. I don't think Tristan is a bad person, but he's still immature in the first book. I think it has something to do with the "first guy" principle in YA.
Usually, the first guy we meet in a YA book is assumed to be the one the girl ends up with, but I rarely find that in life. Usually a girl's first love is a disaster! I wanted to write something that was closer to life. And, to answer your question—yes. Tristan is very important throughout the series.
4. I could honestly gush about your book for days and days! What book have you gushed about recently?
Thank you so much! I'm so happy you enjoyed it that much! Recently I've been recommending Storm Siren by Mary Weber. It's a really strong debut book, and I LOVE the heroine.
4. Can you tell us a little about the sequel? I'm dying to know something..anything!!
How to do this without giving anything away? I will say that in Trail of Tears we learn a lot more about Lillian, and maybe even come to agree with her. And the love story in the second book gets way steamier.
Thanks Josie for stopping by!
Find the Author:
I have to say that Josie's answer for my Tristan question really blew me away and made me love this book even more. Such a unique and realistic way of writing a character! I cannot wait to see what happens with him!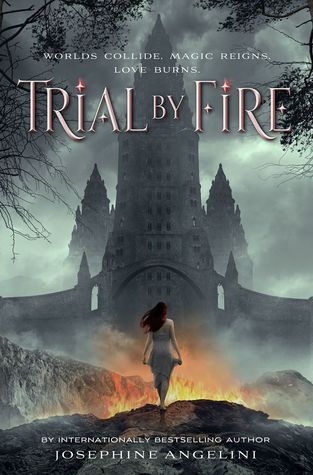 Trial by Fire
by Josephine Angelini
Publisher: Feiwel & Friends
Release Date: September 2, 2014
Purchase:
Amazon
Love burns. Worlds collide. Magic reigns.

This world is trying to kill Lily Proctor. Her life-threatening allergies keep her from enjoying many of the experiences that other teenagers take for granted...which is why she is determined to enjoy her first (and perhaps only) high-school party. But Lily's life never goes according to plan, and after a humiliating incident in front of half her graduating class Lily wishes she could just disappear.

Suddenly Lily is in a different Salem - one overrun with horrifying creatures and ruled by powerful women called Crucibles. Strongest and cruellest of all the Crucibles is Lillian . . . Lily's identical other self in this alternate universe. This new version of her world is terrifyingly sensual, and Lily is soon overwhelmed by new experiences.

Lily realizes that what makes her weak at home is exactly what makes her extraordinary in New Salem. It also puts her life in danger. Thrown into a world she doesn't understand, Lily is torn between responsibilities she can't hope to shoulder alone, and a love she never expected.

But how can Lily be the saviour of this world when she is literally her own worst enemy?
My Thoughts:
Macmillan has these books called Fierce Reads and for so long I just thought they were books that have fierce heroines, but now after reading Trial by Fire I understand what a Fierce Read actually is. This book brought out the fierceness in me. I wanted to fight for Lily and Rowan, I wanted to just jump right inside this book and fight with all the fierceness my bookies have. So Fierce Reads aren't just talking about the books characters, which let me assure you Lily and Rowan were two of the fiercest characters ever, they are talking about bringing out the readers inner Fierce and pulling them into a story they will never forget.
Trail by Fire starts out..okay I am just going to say it bad. Tristan is a horrible childhood BFF/crush ever! I normally love the childhood friend turn to boyfriend angle but man this guy was just mean and I wanted to kick him out of this book! Without his stupidity though Lily wouldn't have given in and decided to leave her world though so Tristan did serve a purpose even though I hate to admit it. I'm glad to also say that his doppelganger was better, but I have a very real suspicion that he will still turn out to be a dirtbag. When Lily suddenly turns around and finds herself in another version of her world she has no idea what to do. Her life has always been a little crazy, but this was an all new brand of crazy for her. She quickly learns that she will have to adapt to her new surroundings before she can find her way home. With doppelgangers, witch craft, multiple versions, and willstones this story is an adventure that takes Lily a girl who could barely keep herself alive to a girl who is one of the strongest witches and can change the world.
I loved this and I don't mean love as in think about the story a bit and then put it back up to never really think of again. No I mean I fiercely love this story to where I will buy a physical copy and pet it everyday and reread my favorite passages for years. Yes I loved it that much. It is such a unique spin on witchcraft and omg the world is just amazing! This author weaves in science and really makes the reader think. You find out later in the story the reason why Lilian (the original Lily in the new world) brings Lily into her new world and I get it. We don't know everything because well this is the first book in the trilogy so there is a lot more to come, but we do know that Lily is there to right a wrong and that Lilian thinks she is right by killing everyone who practices science. See at first I was like that's so wrong, but the more you read you see that Lilian has a reason and while killing people is never the answer you do see her point. I love books that make me think and this one not only does that it makes me really wonder which side I would want to be on. The obvious one isn't always the answer and I think Lily may realize this sooner rather than later.
Rowan was *squee* amazing. After hating Tristan with everything and wishing him a painful death it was such a fun ride to fall for Rowan. Was he easy to like at first, no but he was no where near as bad as Tristan and you have to give him a little leeway too. When he meets Lily he thinks she is Lilian and well he hates Lilian for various reasons so he can't trust Lily. Their relationship grows and oh my what a story that was. I loved every bit of their interaction and I almost swooned when she claimed him. You will have to read the story to find out exactly what that means hehe. Such a great pair! And there is one scene that literally had me fanning myself! Sorry had to throw that in there!
This was a book that I didn't want to put down, but at the same time I didn't want to finish it. I kept reading a chapter and then walking away so that I could savor it. I haven't done that it a very long time, maybe not since Twilight so that should tell you how much I adored this story. This is my first book by
Josephine Angelini

but it will not be last that's for sure. I adore her writing, characters, and world building and I am positive I will love everything she writes. Yep can't say that about most authors, but for Ms.Angelini I am going to say it and own it!
Giveaway time!! The wonderful people at Macmillan are giving us one copy of Trial by Fire to giveaway to one lucky reader! Just fill out the form below to enter.
Open to US/Canada residents only
Good Luck!
Also don't forget to check out all the awesome tour stops that happened this week! I promise you definitely want to check these out! Click HERE!