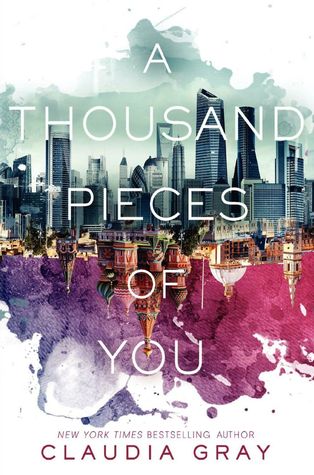 Marguerite Caine's physicist parents are known for their radical scientific achievements. Their most astonishing invention: the Firebird, which allows users to jump into parallel universes, some vastly altered from our own. But when Marguerite's father is murdered, the killer—her parent's handsome and enigmatic assistant Paul—escapes into another dimension before the law can touch him.

Marguerite can't let the man who destroyed her family go free, and she races after Paul through different universes, where their lives entangle in increasingly familiar ways. With each encounter she begins to question Paul's guilt—and her own heart. Soon she discovers the truth behind her father's death is more sinister than she ever could have imagined.

A Thousand Pieces of You explores a reality where we witness the countless other lives we might lead in an amazingly intricate multiverse, and ask whether, amid infinite possibilities, one love can endure.
Already a huge fan of Gray, I couldn't wait to read her latest project,

A Thousand Pieces of You

, the first book in her new

Firebird

series. I admit, it did take a little bit to warm up to the pacing, but all in all this turned out to be an exciting and fascinating fun filled escape.
After the death of her father, Marguerite is out for revenge. With the help of her friend Theo, the two travel through dimension to chase down her fathers killer using the invention he built, called the Firebird.
I've read my share of time travel books and while some books don't bond well, I still adore this genre concept and always on the look out for more books about them. The story line was really very cool, there is a lot of terminology and techy stuff that I don't always fully understand which is why it's hard to connect with the overall story, but I think Gray did well, even if I struggled at times between dimensions. I enjoyed all of the twist and turns that keep me guessing, half of which I never saw coming. I think the pacing and flow could have been pulled in a little tighter, but the concept is solid and the characters and romance really pulled the story along nicely. I liked all of the characters. Marguerite is brave and resilient, Theo has charm and charisma and Paul is the mystery that ties this first installment in a gripping and cunning way.
Not everything is what it seems.
All in all, this turned out to be a decent read. It may not be my favourite Gray novel, but it's definitely a good start to a promising series that I look forward to continuing.