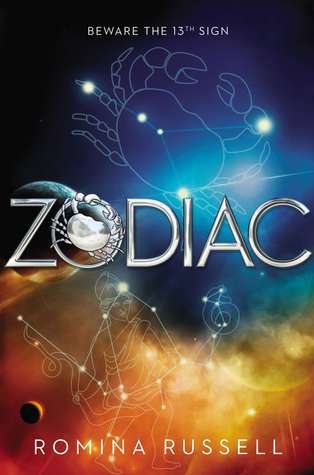 Zodiac
by Romina Russell
Publisher: Razorbill
Release Date: December 9th, 2014
Purchase:
Amazon
At the dawn of time, there were 13 Houses in the Zodiac Galaxy. Now only 12 remain….

Rhoma Grace is a 16-year-old student from House Cancer with an unusual way of reading the stars. While her classmates use measurements to make accurate astrological predictions, Rho can't solve for 'x' to save her life—so instead, she looks up at the night sky and makes up stories.

When a violent blast strikes the moons of Cancer, sending its ocean planet off-kilter and killing thousands of citizens—including its beloved Guardian—Rho is more surprised than anyone when she is named the House's new leader. But, a true Cancrian who loves her home fiercely and will protect her people no matter what, Rho accepts.

Then, when more Houses fall victim to freak weather catastrophes, Rho starts seeing a pattern in the stars. She suspects Ophiuchus—the exiled 13th Guardian of Zodiac legend—has returned to exact his revenge across the Galaxy. Now Rho—along with Hysan Dax, a young envoy from House Libra, and Mathias, her guide and a member of her Royal Guard—must travel through the Zodiac to warn the other Guardians.

But who will believe anything this young novice says? Whom can Rho trust in a universe defined by differences? And how can she convince twelve worlds to unite as one Zodiac?

Embark on a dazzling journey with ZODIAC, the first novel in an epic sci-fi-meets-high-fantasy series set in a galaxy inspired by the astrological signs.
My thoughts:
If you are a sci-fi lover this book is for you! Zodiac is a high intensity sci-fi book that brings you into a unique world and makes you want to live among these amazing planets.
This might sound strange but just go with me for a minute. When I first picked up Zodiac I knew I was going to like it. It had everything I like in my sci-fi books and I was super excited to dive in. The books I like I usually try and finish within a few days that way everything stays fresh in my mind, but with this book I just couldn't do that. It took me a good two weeks to finish it and yes normally that means I am not feeling the book, but in this case it was because I wanted to ponder the world and really get to know it. For the first time in a long time I didn't just want to skip over the parts I didn't understand, I wanted to make sure I got the world. It was tough I won't lie. This book is heavy sci fi with psyenergy, different planets, a new caste system, and over the top technology. I don't regret for one single second taking my time. I am so glad that I slowed down with this one because it doing so I really felt something and I completely immersed myself in this world and man was it brilliant.
Romina Russell has crafted such a unique world. I have read space sci-fi books before, but this one is beyond unique. With the introduction of the Zodiac we get a fun spin on the planet system and I loved reading about the different houses. It was also fun to see how each character acted when from a different house. Our main character Rho was from Cancer and she surprised me by sticking to her Cancerian (not sure if that is a word but I am going with it) values. I've noticed in a lot of books the main character will be forced to hide things and change their opinion, but Rho stayed strong. Yes she had secrets, but not with her main goal. She voiced her concern and stepped up to the plate every singe time even though she knew the outcome wouldn't be in her favor. I really liked that about her and it made me respect her. There were times of wishy washynesss and I was scared she would take the easy way out, but each and every time she stayed true to her morals. Loved loved loved that.
The main story was an interesting one and this book really only scratches the surface. I have a lot of questions that I think will come to light in the coming books and I am very excited to see how they play out. Especially one particular one because I have a feeling Ms.Russell intends to shake this whole world up and I can't wait! The addition of the thirteenth house was brilliant and I really liked how the author wove in the lore from each house. Like I said this whole world is so unique and I really fell in love with it.
The one and only thing I did not like about this book was the love triangle. I always have a hard time with these and this one didn't work for me. I don't like the inner struggle and I don't like all the heartbreak that comes with this type of romance. Ms. Russell weaves the romance nicely into the story I just wish it would have been with only one guy. I genuinely like both guys and I don't want either one of them to get hurt. I also feel like a certain part of the story was pushed a little too far especially considering there is a love triangle. It was Rho's decision to go that far and I didn't respect it. She should have worked out her feelings first and dealt with them before she went down a certain path. I am very curious to see who she ends up with, but that is not why I will pick up the next book. The world that was created can definitely stand on its own and I hope that the author chooses to show more of that then the triangle.
I would have gone with 4 stars on this one, but the romance really hit a nerve with me so I have to go with 3.5. The story and world though get a huge 5!
3.5 snowflakes
Wait don't leave! I want to give one lucky follower an ARC copy of Zodiac! Just fill out the Rafflecopter form below to enter!
Open internationally
Good luck!