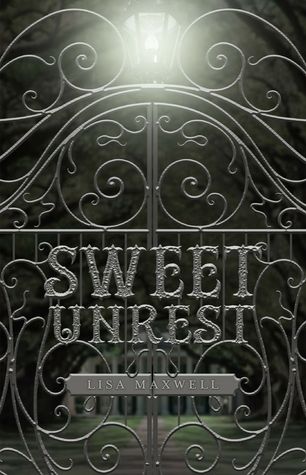 Lucy Aimes has always been practical. But try as she might, she can't come up with a logical explanation for the recurring dreams that have always haunted her. Dark dreams. Dreams of a long-ago place filled with people she shouldn't know…but does.

When her family moves to a New Orleans plantation, Lucy's dreams become more intense, and her search for answers draws her reluctantly into the old city's world of Voodoo and mysticism. There, Lucy finds Alex, a mysterious boy who behaves as if they've known each other forever. Lucy knows Alex is hiding something, and her rational side doesn't want to be drawn to him. But she is.

As she tries to uncover Alex's secrets, a killer strikes close to home, and Lucy finds herself ensnared in a century-old vendetta. With the lives of everyone she loves in danger, Lucy will have to unravel the mystery of her dreams before it all comes to a deadly finish.
My Thoughts:
Wow, now this was an impressive debut! I'm really surprised how much I enjoyed
Sweet Unrest
. I always knew I wanted to read this, but I didn't think I'd be this mesmerized by everything this book had to offer.
Lisa Maxwell is a fantastic writer.
The storyline has a little bit of everything I crave in a good escape. Voodoo magic, reincarnations, ghost stories, dreams, mystery, suspense and a fierce all consuming love. I also really loved all these characters and felt instantly connected to their stories.
Past and present.
I was instantly charmed by Maxwell's smooth writing style, absorbing plot and engaging characters. The writing is very smart and sharp and always kept me interested and invested chapter after chapter. To some, the pacing may seem a tad slow, but I rather enjoyed the steady rhythm of intrigue and suspense. I loved the way Maxwell connected us to the past and present by linking us through Lucy while bleeding her dreams into reality. I also really got a kick out of the voodoo element. I can't say that I've read this particular lore in other books before and I've learned that I quite enjoyed the readings, ceremony and dark magical history that comes with it, or at least in Maxwell's world. It was completely fascinating and hands down freak-worthy. Combine all that with the beauty of
New Orleans
and the mystery of the plantations and you have yourself an irresistible read.
Lucy is an amazing fiery protagonist. She's an ever practical person who doesn't exactly believe in all this voodoo business, but I like that she doesn't flat out reject the idea and keeps an open mind, especially considering what she's been seeing in her dreams and then seeing it re-enact in her own life. I think that was one of my favorite parts, seeing the dreams, nightmares and visions unfold and watch the mystery play out with thrilling anticipation.
Alexandre is a very alluring character, he's definitely intense in that dark almost threatening mysterious way but also has a playful kindness and charm that you can't resist. His story is haunting and heartbreaking and I couldn't seem to get enough. I absolutely adored the love story. It's a beautiful fierce endless love that you just want to squeeze and hold close. It may feel like insta-love to some, but I think given the circumstances between Lucy and Alex and their tortured past lives together, this felt more fated then instant and it definitely goes on the list of swoon-worthy goodness.
I also liked the rest of the character, everyone played their parts well and at one point of the story I wasn't sure who I could trust. One of my favorites though was Mama Legba. She gets a huge round of applause. She's the local Voodoo Queen and written with an otherworldly uniqueness that brought in such a perfect tone and flavor to the entire length of the story.
All in all, I really enjoyed this book so much. It's been a long time since a story as captivated me in a way that I simply could not put the book down at any given point. It's the kind of story that you can just relax and sink into and let the escape take you way. The ending was pretty bittersweet and apart of me - the hopeless sap part - wished for something more, but in it's own way it was kinda perfect. I'm thinking this is a stand-alone, but you wouldn't hear me complain one bit if we get a sequel. I'm simply not ready to let this world go. An amazing and incredibly entertaining debut novel
by Maxwell.
I greatly look forward to see what she comes up with next!