Welcome to Teaser Tuesdays! Teaser Tuesdays is a weekly bookish meme, hosted by MizB of
Should Be Reading
. Anyone can play along! Just do the following: Grab your current read Open to a random page Share two (2) "teaser" sentences from somewhere on that page BE CAREFUL NOT TO INCLUDE SPOILERS! (make sure that what you share doesn't give too much away! You don't want to ruin the book for others!) Share the title & author, too, so that other TT participants can add the book to their TBR Lists if they like your teasers! My Teaser Tuesday is for the following...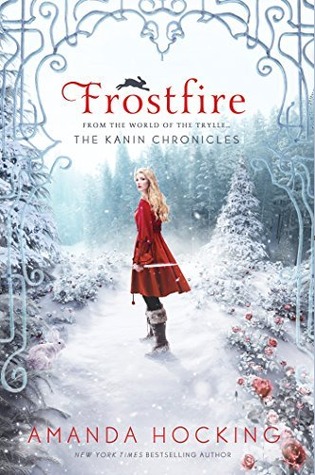 Frostfire by Amanda Hocking
Publisher: St. Martin's Griffin
Publication Date: January 6, 2015
Blurb:
Bryn Aven is an outcast among the Kanin, the most powerful of the troll tribes.
Set apart by her heritage and her past, Bryn is a tracker who's determined to become a respected part of her world. She has just one goal: become a member of the elite King's Guard to protect the royal family. She's not going to let anything stand in her way, not even a forbidden romance with her boss Ridley Dresden.
But all her plans for the future are put on hold when Konstantin– a fallen hero she once loved – begins kidnapping changelings. Bryn is sent in to help stop him, but will she lose her heart in the process?
k
Teasers from book page: 138
"I'm not saying that people don't fall in love. People fall madly in love with each other all the time. But that right there"--Ridley gestured behind him, toward where King Evert and Queen Mina were seated--"that was all an act."
Teaser from book page: 139
Would you do that?" Ridley asked. "Would you marry someone you didn't love to advance your life or your career?"
"No, of course I wouldn't," I said.
"Would you even marry someone if you did love them?" he asked. I could feel his eyes on me, but I refused to look at him, preferring to finish my wine in big gulps.
*PLEASE LEAVE A COMMENT with either the link to your own Teaser Tuesdays post, or share your 'teasers' in a comment here if you don't have a blog Thanks!