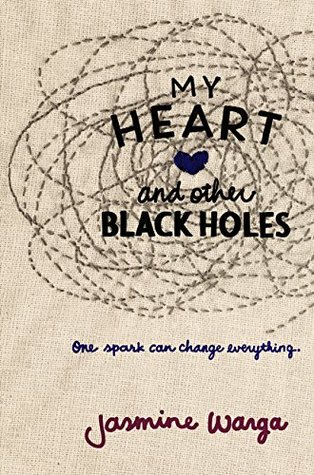 My Heart and Other Black Holes
by Jasmine Warga
Publisher: HarperCollins/Balzer + Bray
Release Date: February 10, 2015
ARC from Edelweiss
Sixteen-year-old physics nerd Aysel is obsessed with plotting her own death. With a mother who can barely look at her without wincing, classmates who whisper behind her back, and a father whose violent crime rocked her small town, Aysel is ready to turn her potential energy into nothingness.

There's only one problem: she's not sure she has the courage to do it alone. But once she discovers a website with a section called Suicide Partners, Aysel's convinced she's found her solution: a teen boy with the username FrozenRobot (aka Roman) who's haunted by a family tragedy is looking for a partner.

Even though Aysel and Roman have nothing in common, they slowly start to fill in each other's broken lives. But as their suicide pact becomes more concrete, Aysel begins to question whether she really wants to go through with it. Ultimately, she must choose between wanting to die or trying to convince Roman to live so they can discover the potential of their energy together. Except that Roman may not be so easy to convince.
My Thoughts:
While looking at the descriptions of upcoming YA contemporary novels, I came across a repeated theme: suicide or the fashination with death. Along with My Heart and Other Black Holes, this theme seems to be used as a setting for example in Paperweight by Meg Haston, Vanished by E.E. Cooper, The Last Time We Say Goodbye by Cynthia Hand and All The Bright Places by Jennifer Niven. In addition to books that deal directly with suicide, there seems to be a lot of upcoming titles which deal with mental health issues of some kind, like Made You Up by Francesca Zappia (schizophrenia) and Love, Lucas by Chantele Sedwick (depression).
Though writing about such serious issues is not a new phenomenon, I find that they are gaining more and more visibility within the pages of young adult literature. Issues of mental health remain a stigmatised issue in the contemporary society, and in many cases, unfortunately, young people (in some cases even adults) don't have an educated outlook into mental health issues as a result of which they do not have the capability to take such issues seriously. Also, the still seems to be a stereotype present which brands mental health issues as a sign of weakness and something that should be afraid of. As a result of these preconceptions and prejudices, the importance of writing about mental health issues in an honest and realistic manner is crucial and I think YA literature is one of main ways especially young readers can be made aware of the complexities of mental health issues.
As a result of the fact that I have lost someone extremely close to me through suicide, I am always a bit wary when it comes to picking books that deal with the issue. I have always felt that someone who does not have experience from such a thing cannot write realistically about it and sometimes I have come across books that deal with the issue but don't really GET how it feels like when someone you love, someone you knew so well, is suddenly gone just because he/she did not have a will to live anymore. From the moment I started with My Heart and Other Black Holes, I felt a connection with the novel and realized that Jasmine Warga really seems to get what it is all about – how someone might look completely okay while there is a black slug of depression crawling inside. How depression and sadness is not something beautiful and something that should be glorified. What I especially appreciated about Warga's writing was the fact that she writes honestly about suicide and is not afraid to point out that while it might be cowardly and selfish, it also might be something that let's you free and gives you peace, while never making it sound like it is something beautiful or admirable or fashinating.
Aysel has been through a lot. Her father, a man she thought she knew better than anyone else, is locked in a prison after committing a horrible crime, and now she is stuck living with her mother and her new, perfect family. Her mother ignores her, she feels no connection with her half-siblings whatsoever and everyone in the small town she lives in knows about her father and what he did. Whispers and scared looks follow her wherever she goes, and it seems like she is unable to find peace and quiet from the world she lives in. Though she keeps living her life, going to school and her after-school job, she is constantly sad, the black slug of depression residing inside her body and mind.
Wanting to end it all, Aysel comes across a Suicide Partner chat within a forum dedicated to those who want to end their life and contacts FrozenRobot, a teenager from the neighboring town, who is also planning to end his life. When she meets this mysterious FrozenRobot (aka Roman) they start to plan their demise, but as the day for the act itself starts to get closer, Aysel starts to realize that there are things in her life that make it worth to second-guess her decision, one of them being Roman himself. But though she starts to feel like she might be ready to do it, she realizes that convincing Roman won't be easy. In fact, it might be impossible.
Roman has his own reasons for wanting to end his life. He blames himself for something that happened to someone he loved and after that fateful night, he has dropped everything he loved, including basketball, feeling like because of what happened, he deserves to be miserable, sad and depressed. Finding Aysel gives him a chance to really make his plans concrete, but as they spend more time together, he starts to feel like what he wants is very different from what Aysel wants.
The connection between Aysel and Roman is so well constructred and slow-boiling – despite the fact that we only know these characters within a time period that spans across a couple of weeks, after finishing this book I really felt like I knew Aysel and Roman. I salute Warga for avoiding the cliches and the "instant relief" solution. Her honesty and her openness allow these characters to really show themselves to the reader – for the good and the bad. It is really hard for me to believe that this is Warga's debut, because her voice comes out so strongly and so masterfully. All I can say is that I am really looking forward to reading more from this talented, upcoming author. Finally, I want to just thank Warga for writing this book and for giving Aysel and Roman a voice and more importantly, for giving them each other – the importance of having people in your life who just GET you through and through can never be over-emphasized.
5 Snowflakes
Milka