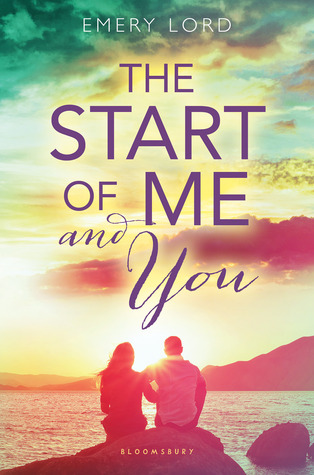 The Start of You and Me
by Emery Lord
Publisher: Bloomsbury
Release Date: March 31, 2015
Purchase:
Amazon
Following her pitch-perfect debut Open Road Summer, Emery Lord pens another gorgeous story of best friends, new love, & second chances.

Brimming with heartfelt relationships and authentic high-school dynamics The Start of Me and You proves that it's never too late for second chances.

It's been a year since it happened—when Paige Hancock's first boyfriend died in an accident. After shutting out the world for two years, Paige is finally ready for a second chance at high school . . . and she has a plan. First: Get her old crush, Ryan Chase, to date her—the perfect way to convince everyone she's back to normal. Next: Join a club—simple, it's high school after all. But when Ryan's sweet, nerdy cousin, Max, moves to town and recruits Paige for the Quiz Bowl team (of all things!) her perfect plan is thrown for a serious loop. Will Paige be able to face her fears and finally open herself up to the life she was meant to live?
My Thoughts:
Wow. Just WOW. Emery Lord has done it again. Around this time least year I read Open Road Summer, Lord's debut, and completely fell in love and The Start of Me and You definitely has deepened that love.
It has been a year since Paige's boyfriend Aaron died and Paige became the Girl Whose Boyfriend Drowned. Paige misses Aaron, but at the same time feels like she has been pulled into something that people do not quite understand - Aaron was her boyfriend only for a couple of months, but people threat her like she's a grieving widow after 50 years of marriage. The only people who really seem to get what she is feeling are her friends Tessa, Morgan and Kayleigh (aka the coolest group of friends I've read about in a LONG TIME). When Paige starts her junior year in high school, she makes a list of things she wants to do in order to take her life back, and when she runs into Ryan Chase, a boy she has had a crush on since middle school, she decides that he could be a good person to start from on her journey to a new beginning. But then Max, Ryan's nerdy cousin, is assigned to the seat next to hers in English class and things get a whole new level of complicated.
It was such a pleasure to read about a protagonist like Paige, mostly because I found a lot of myself from her. Paige is a certified introvert who often finds herself from situations in which she does not really know how to act or what to say (there's a brilliant gem of a conversation about hot dogs in this novel, for example). Though she does not identify herself as a nerd, she definitely is nerdy. She loves television and dreams of studying screenwriting in college. She is well-read, has a good sense of humor and genuinely loves her family and her friends despite the fact that they don't always seem to see eye to eye. But what I really loved about Paige is the fact that she is not perfect - she is not the stereotypical popular girl nor the stereotypical smart/nerdy girl. To be honest, she is quite normal, and that is a wonderful thing. She has been pulled into the spotlight because of what happened to Aaron, and she desperately wants to find herself again so people could see her as just Paige, not as Paige-the-girl-whose-boyfriend-drowned.
Paige's group of friends - Tessa, Morgan and Kayleigh - really the coolest group of friends I've read about in a long while. The fact that they are all quite different seems to make their friendship just stronger.They have been friends for a long time, I loved to read about the mutual trust between them - these girls seriously would do anything for each other. There is no scheming, no backstabbing, no mean girls and that feels so refreshing, because I feel like often in YA contemporaries set in high school there is that one character present who takes the role of the "villain", in a sense.
I loved both the self-discovery and friendship aspects of The Start of Me and You, but there is one more thing I really should bring out in this review. Max Watson, the guy I wish I would have met in high school. Max is nerdy, sweet and funny. He uses literary references to give advice, can discuss Pride and Prejudice with ease, wears Firefly t-shirts and really excels in Quiz Bowl. He is a good listener and it seems like every time Paige is with him she can truly be herself. The moment Max is introduced in the novel I knew there was something special about him and as I kept reading, I kept falling more and more in love with him. Seriously, where were guys like this when I was in high school?
I love the fact that Emery Lord can write a perfect, funny and touching stories about teenagers and still manage to include the parents there as well without "demonizing" them in some way. Yes, Paige finds the rules of her mother a bit strict at points, but she does understand why her mother wants to keep tabs on her. The relationship Paige has with her parents and her sister feels so realistic and honest - they fight, they disagree, but they also trust each other and at the time to need can rely on each other. Much like with her friends, Paige feels like if she really needs something, she can turn to her family.
With Start of Me and You, Emery Lord definitely proves that she is brilliant YA contemporary writer. Much like her debut Open Road Summer, The Start of Me and You is engaging, touching, funny and simply just a pleasure to read. It made me laugh out loud, but it also made me wipe tears away from my cheeks. I can't believe I have to wait to 2016 to get my hands of When We Collided, Lord's third novel. In short, Emery Lord has definitely become my go-to gal when it comes to YA contemporary, and if you have not already done so, you should definitely check her out and fall in love with her stories and her characters!
5 snowflakes