Welcome to Teaser Tuesdays! Teaser Tuesdays is a weekly bookish meme, hosted by MizB of
Should Be Reading
. Anyone can play along! Just do the following: Grab your current read Open to a random page Share two (2) "teaser" sentences from somewhere on that page BE CAREFUL NOT TO INCLUDE SPOILERS! (make sure that what you share doesn't give too much away! You don't want to ruin the book for others!) Share the title & author, too, so that other TT participants can add the book to their TBR Lists if they like your teasers! My Teaser Tuesday is for the following...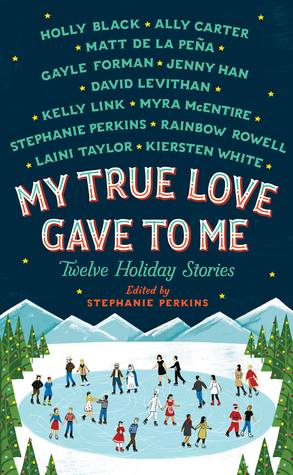 MY TRUE LOVE GAVE TO ME
Twelve Holiday Stories Edited by Stephanie Perkins
Published: October 14, 2014 by St. Martin's Press
Blurb:
If you love holiday stories, holiday movies, made-for-TV-holiday specials, holiday episodes of your favorite sitcoms and, especially, if you love holiday anthologies, you're going to fall in love with MY TRUE LOVE GAVE TO ME: TWELVE HOLIDAY STORIES by twelve bestselling young adult writers, edited by international bestselling author Stephanie Perkins.
Teaser #1 from ebook page 9/260
"I kept your tie safe," she said, and held out a red silk necktie. He'd been dancing on the coffee table when he threw it at her.
"Thank you," he said, taking it and slinging it around his neck. "That was a good catch--but I was actually trying to lure you out onto the dance floor."
"That was a coffee table, Noel."
"There was room for two, Margaret."
Teaser #2 from page 13/260
"It's our last chance to dance together!" he said. "It's our senior year!"
"We have months left to dance," Mags said, stopping at the food table to get a mini quiche.
Noel walked down the couch, stepped onto the coffee table, then stretched one long leg out as far as he could to make it onto the love seat next to Mags.
"They're playing our song," he said.
"They're playing 'Baby Got Back,'" Mags said.
Noel grinned.
PLEASE LEAVE A COMMENT with either the link to your own Teaser Tuesdays post, or share your 'teasers' in a comment here if you don't have a blog Thanks!