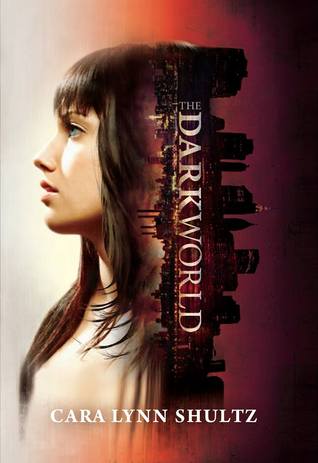 The Dark World

by Cara Lynn Shultz
Publisher- Harlequin Teen
Published- May 27th 2014
Purchase- Amazon / B & N
Paige Kelly is used to weird--in fact, she probably corners the market on weird, considering that her best friend, Dottie, has been dead since the 1950s. But when a fire demon attacks Paige in detention, she has to admit that things have gotten out of her league. Luckily, the cute new boy in school, Logan Bradley, is a practiced demon slayer-and he isn't fazed by Paige's propensity to chat with the dead. Suddenly, Paige is smack in the middle of a centuries-old battle between warlocks and demons, learning to fight with a magic sword so that she can defend herself. And if she makes one wrong move, she'll be pulled into the Dark World, an alternate version of our world that's overrun by demons-and she might never make it home.
My Thoughts:
After the accident that very much took her life, but was brought back, Paige Kelly's life hasn't been the same. For one thing her best friend, Dottie, is a ghost from the 50's and only Paige can see and talk to her. She may be considered the school freak and insane but soon Paige will find out just how sane she really is. With the help from Logan, a new transfer at school, Paige learns that she's actually a Traveler; a person with a type of energy who can open a portal to the human world and the Dark World and with an old-aged war brewing between the Demons and Warlocks for control over the throne, Paige is caught in a spiralling twist between the demons who want to kidnap her and the boy trying to protect her and hopefully find a way to come out of this alive.
The Dark World
is a very fun ghostly paranormal that has everything I like in an escape. Witty warm characters, funny dialogue, incredible writing and smart world building. Plus give me a book about Travelers, Demons, Slayers, Magic and Warlocks and I'm completely sold. I've read Shultz Spellbound series and already knew that I love the way this women writes, but I think she's stepped it up even more with this book. It's solid, intriguing and fascinating, and I had a great time learning along with Paige about the different demons and how they create havoc in the human world and what the role of a slayer and warlock entails. I also got a kick out of Paige's training sections. It was comical and enlightening and gave the perfect excuse for our two main leads to learn each others strengths and weaknesses and it doesn't hurt that the tension was very yummy indeed.
Paige is an amazing character. Despite being a freak in everyone's eyes, Paige doesn't take crap from anyone. I love her good natured humor, random liners and the ability to go with the flow. I also love that she's quick to do the right thing even to those who don't exactly deserve it. She resistant, brave and a good person.
Logan
is made of awesome. Skilled, confident and collected when in battle-mode but awkward and shy when it's just one on one. He may be a badass demonslayer with a magical sword but he still has his uncertainties and secrets that make him feel more real.
Ajax,
is another character that I just adored. Funny, sexy and a real charmer, he brought endless amusement and entertainment to the story.
The romance was also very well done and set at a gradual pace but inevitable just the same. The moments between Paige and Logan are really very sweet and touching and has an all consuming touch that the sap in me can't seem to get enough of.
I also liked the ending, not exactly a cliff hanger but enough to have me craving for more.
All in all, I really enjoyed this book. It's chalked full of non-stop demonic and magical action that kept the story moving at a quick and steady pace. The writing is very smart and these characters had me invested from minute one. A promising start to a new series I very much plan to continue.
Well done!