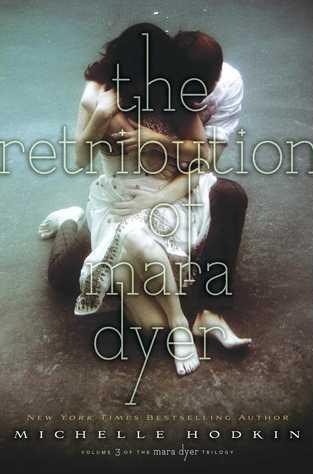 The Retribution of Mara Dyer
by Michelle Hodkin
Publisher-

Simon & Schuster
Published- Nov 4th 2014
Purchase- Amazon / B & N
Mara Dyer wants to believe there's more to the lies she's been told.

There is.

She doesn't stop to think about where her quest for the truth might lead.

She should.

She never had to imagine how far she would go for vengeance.

She will now.

Loyalties are betrayed, guilt and innocence tangle, and fate and chance collide in this shocking conclusion to Mara Dyer's story.

Retribution has arrived.
My Thoughts:
The Retribution of Mara Dyer
is the epic, mind exploding conclusion to this highly anticipated series and so amazingly worth the long two year wait. This does not disappoint!
You know, I don't even know what to say. Apart of me wants to scream and jump around all over this review praising all the awesome that it is, but given this is the last book in the series- a book fans have been on hands and knees waiting for, I don't think I should spoil anything. But I will say that I'm in total awe of the brilliant way Hodkin turned this last hurrah. All those questions that have been burning since book two come together piece by agonizingly messed up piece, but in the best way possible. I can't tell you how liberating it was to finally get some hardcore answers as to what the hell was going on, but I loved that Hodkin did it at a leashed pace, bringing us closer till the moment when everything hits click. This book is a lot darker then I would have thought, more edgy and twisted. The things that are done aren't very pretty and even Mara isn't the same girl that we once knew. Her anger and hatred is at its max extreme and apart of me was rooting her on while the other part was scared she'd go to far. But leave it to Hodkin to find the perfect comedic balance to calm the mood or moment. Jamie, Stella and Daniel were amazing characters that had Mara's back. No matter what. And I love the back and forth banter and zingers that made me laugh out loud, which is saying something considering how intense this book really is.
I'm not going to say anything about the romance or Noah since that would probably be the biggest spoiler, but I will say this; Fate and destiny plays a large part of this love story, but love can endure
despite
it.
Bottom line. This series is the best physiological thriller that I've ever read. It's crazy addicting and spins you into madness from the first book till it's epic freaken conclusion. Also, chapter 73? BEST chapter evah!!! My heart, my gawd, my heart!! Congrats to Michelle Hodkin for such an amazing series. It's been one helluva wicked ride and I greatly look forward to anything else you put to pen. Bravo!
Find the author:
Goodreads / Website 5 Snowflakes