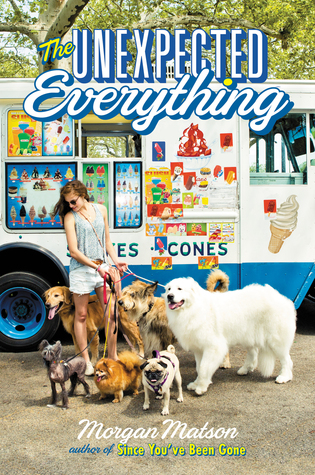 The Unexpected Everything by Morgan Matson
Publisher - Simon & Schuster
Release Date - May 3rd, 2016
Pre-order -
Amazon
/
B&N
Andie had it all planned out.





When you are a politician's daughter who's pretty much raised yourself, you learn everything can be planned or spun, or both. Especially your future.





Important internship? Check.





Amazing friends? Check.





Guys? Check (as long as we're talking no more than three weeks)





But that was before the scandal. Before having to be in the same house with her dad. Before walking an insane number of dogs. That was before Clark and those few months that might change her whole life.





Because here's the thing - if everything's planned out, you can never find the unexpected.





And where's the fun in that?
My Thoughts:
I really love Morgan Matson - have loved since I read Amy & Roger's Epic Detour a couple of years ago. Because of that, I was obviously very excited after first hearing about The Unexpected Everything. As you might have figured out from my previous reviews, I am mostly a contemporary YA reader, and Morgan Matson's books always tend to fill all of the boxes for what I look from contemporary YA - friendships, romance, family relationships and self-discovery. The Unexpected Everything was an absolutely treat, much like all of the previous novels by Matson, and though it did not become my favorite from her novels, it was still a solid five star read without a doubt.
Andie is the daughter of a widowed father. Due to her father's job as a politician, Andie is used to being under constant scrutiny - she has been told what to wear, how to use social media, how to act in parties, and so on. The fact that her father has been spending so much time in D.C. means that Andie has been able to control her own life and make her own schedules. She is hard-working good student with goals, but she also loves spending time with her friends. When her father is pulled into a political scandal and forced to temporarily step down from his position, things change very quickly. Due to his father's new reputation, Andie has to rethink her plans for the summer and try to come to terms with the fact that her father is suddenly home and actually interested in spending time with her.
When Andie's first plan for the summer fails, she starts to look for a job and finds a position as a dog walker. It is during her job that she also meets Clark, a guy who is shy, attractive and.... wait for it... A WRITER (*swoon*). As Andie starts to spend more time with Clark, she starts to realize that sometimes things might get better when they don't go according to a plan. Andie's summer definitely didn't turn how she had planned it, but maybe that is a good thing...
The Unexpected Everything focuses mainly on three different relationships Andie has: her relationship with her father, her relationships with her friends, as well as her relationship with Clark. As the novel processes, these relationships obviously get tangled up and they all play different kind of roles in Andie's life. Though I love the bits with Andie and Clark, I must say that I am always a sucker for father-daughter story lines, probably because my "story line" with my father only lasted for 12 years. I loved reading about the way Andie and her father get used to each other again after spending so much time apart, and how the trust between them slowly builds. The friendship story lines are also interesting and love Andie's little gang of friends consisting of Palmer (and her boyfriend Tom), Toby and Bri.
The Unexpected Everything is fairly long for a contemporary book (almost 500 pages), but I think Matson uses the length to her advantage and really takes time to develop the relationships and the characters. Andie is a likable character and easy to identify with. She fights for what she wants, but also hesitates at moments when things might get too serious, which is something I definitely was able to identify with. She really has chemistry with Clark and I loved the dialogue between the two and how something small between them develops into something much larger as the novel proceeds.
Second Chance Summer still remains as my favorite Morgan Matson novel, mostly because I am not sure whether a novel has really broken my heart quite in a way that it did. But The Unexpected Everything is a nice new addition to the row of five stars reviews I have given for Morgan Matson. It is a must read for contemporary lovers and a book that will definitely make you look forward to summer! It also features a collection of dogs, which I think always makes things better.
5 Snowflakes