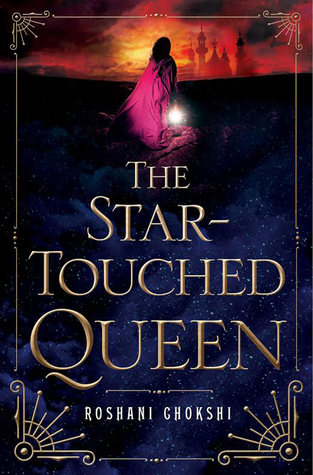 The Star-Touched Queen
by Roshani Chokshi
Publisher: St. Martin's Griffin
Release date: April 26th, 2016
Purchase:
Amazon
Fate and fortune. Power and passion. What does it take to be the queen of a kingdom when you're only seventeen?

Maya is cursed. With a horoscope that promises a marriage of Death and Destruction, she has earned only the scorn and fear of her father's kingdom. Content to follow more scholarly pursuits, her whole world is torn apart when her father, the Raja, arranges a wedding of political convenience to quell outside rebellions. Soon Maya becomes the queen of Akaran and wife of Amar. Neither roles are what she expected: As Akaran's queen, she finds her voice and power. As Amar's wife, she finds something else entirely: Compassion. Protection. Desire...

But Akaran has its own secrets -- thousands of locked doors, gardens of glass, and a tree that bears memories instead of fruit. Soon, Maya suspects her life is in danger. Yet who, besides her husband, can she trust? With the fate of the human and Otherworldly realms hanging in the balance, Maya must unravel an ancient mystery that spans reincarnated lives to save those she loves the most. . .including herself.

A lush and vivid story that is steeped in Indian folklore and mythology. The Star-Touched Queen is a novel that no reader will soon forget.
My thoughts:
I've been sitting on my thoughts for this book all day and the strangest thing happened. I started out thinking this book kinda wasn't for me, but then the more I thought about it and the more I contemplated what I was going to say in my review I grew to not only like this story, but I actually kinda loved it. This has never happened to me so bare with my while I try and get all my thoughts together for this review.
The Star-Touched Queen was nothing at all what I thought it was going to be and I think that's one of the reasons I had a hard time connecting to it in the beginning. I would read a chapter and then put it down because it wasn't the gripping Game of Throneish plot I thought I was getting, but in it's defense I don't think it ever claimed to be this. I have no idea where I got that idea, but I did and it stuck so right off the bat I was left with a meh feeling unfortunately. What kept me going in the beginning was the amazingly beautiful writing. I think this book has to be one of the more eloquently written books I have read this year and I loved every minute of it. If it weren't for the writing I don't think I would have finished this and I would have seriously missed out on something amazing.
The story is a complicated one because it changed about halfway through. At the turning point is when I truly fell into the story. I thought the whole concept was really unique and interesting and I really wish the beginning had included this new world that was introduced. It was dark and well everything that I like in this type of book. It kinda felt like a cross between Melissa Marr and A.G. Howard and if you know me then you know I love these two authors above all else so this was a very good thing for me. So to say I was hooked was an understatement and at this point I couldn't put the book down. I read 70% of the book in one sitting.
I really enjoyed the characters in this story as well. Maya was determined and fierce and I liked her devotion to her people. I also really liked that she didn't back down from what she thought was right. She had very tough decisions throughout this book and it was nice seeing her make thoughtful choices. I also have to give a huge shout to Kamala. This horse was AMAZING! If I didn't like anything about this book I would have still loved Kamala. You will have to read to see why this horse is so amazing, but I will tell you she is my favorite character of the whole book!
My reasons for walking away thinking not for me are quite simple.
1) I really needed a glossary. There are a lot of words thrown at you and if you aren't familiar with this Indian culture and mythology then you will be lost just as I was. In the beginning I looked everything up, but that got to be too much because it felt like every other page I had to stop and look something up so I stopped. Which of course means I missed key things and that saddened me. Footnotes would have been an amazing addition that would have helped the authors readers immensely.
2) As much as I loved the world in the second half it was not built very well. I wish the author would have spent a bit more time building her world because I felt lost and disconnected so much of the story. At times I couldn't grasp what was going on and it felt very fantasical if that makes any sense. Kinda of like trying to read a Tim Burton film. I know this author has the ability to build a world so I feel let down that I didn't get to read it.
3) And lastly I would have loved a few chapters in Amar's POV. I understand why so many things were hidden regarding him, but in the beginning I would have loved to have heard his thoughts regarding Maya. I think I needed that to buy his love for her in the beginning. He was a complete mystery and yes I did like that, but I still wanted to be let in on a few of his secrets.
See these things are quite simple. but all added up I'm left walking away feeling meh not for me. Like I said though the more I thought about the story the more things made sense I really fell in love with Maya and her story. I thought it was a very whimsical yet dark story and I after thinking on it I think it was rather brilliant. The author has created something that is definitely unique and not something I will soon forget. I'm glad this turned out to not be what I expected and I am very thankful that the authors writing kept me going. I will even say this is in my top 10 books of this year which is so strange! It's just really that good!
4 snowflakes