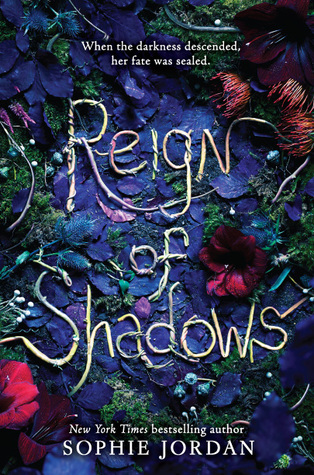 Seventeen years ago, an eclipse cloaked the kingdom of Relhok in perpetual darkness. In the chaos, an evil chancellor murdered the king and queen and seized their throne. Luna, Relhok's lost princess, has been hiding in a tower ever since. Luna's survival depends on the world believing she is dead.

But that doesn't stop Luna from wanting more. When she meets Fowler, a mysterious archer braving the woods outside her tower, Luna is drawn to him despite the risk. When the tower is attacked, Luna and Fowler escape together. But this world of darkness is more treacherous than Luna ever realized.

With every threat stacked against them, Luna and Fowler find solace in each other. But with secrets still unspoken between them, falling in love might be their most dangerous journey yet.
My Thoughts:
On the night the eclipse descended and a blanket of darkness washed over the kingdom was the exact moment Princess Luna was born. It was a time of great terror for with the black night came dark dweller monsters breaking through the grounds hunting for sport and blood. In the confusion and chaos Luna was taken to safety by her nurse Perla and one of her fathers royal guard, Sivo, deep into the cursed forest and to the hidden tower where Luna will live away from the dangers and shadows of evil. Now 17 years old, Luna may be the rightful queen of Ranhok, but she hungers for freedom, for companionship, for life away from the tower walls. This can not be her fate, she needs more, but she never dreamed it would be at the hands of a young archer named Fowler that will lead her to her freedom, to the outside world, nor did she ever guess what it would cost them both.
Ohhhh this was so goood!! I have always enjoyed Sophie Jordan's books, so when I heard that she was writing a retelling of my favorite fairytale, Rapunzel, I couldn't wait to get this in my greedy little hands.
Jordan
does not disappoint! Reign of Shadows is a thrilling, dark and a romantic reimagining story that I absolutely devoured in one sitting!
I almost forgot just how amazing
Jordan
can do fantasy. I absolutely adore her writing and how she developed this wicked and wonderfully imaginative world. The pacing and flow of the story moves at a pulse pounding race. The characters are sharply put together and completely easy to invest in from minute one. The atmosphere is potent with terror and trouble. The setting was so vividly rich and detailed it may as well be it's own character. From the tower, to the Black woods where creatures breath fear and venomous monsters attack the night, everything in this world is crisp and crackles with pure excitement and thrilling adventure.
Luna was such a fascinating character and I loved that added twist that
Jordan
gave her. We learn about this revelation within a few chapters into the story, but I never saw it coming. I'm not sure why it felt so profound to me, but I think it was because it gives it that extra conflict that makes the impossible seem so possible and I loved watching Luna thrive. But besides that twist, I just absolutely adored her. She is such a free spirited girl, brave, determined, daring with a strong mind and a fierce heart. She can more then handle her own and I loved how she handled Fowler.
When we first meet Fowler, he isn't exactly friendly. He comes off as bitter, unfeeling and cold. Only the selfish survive, but there is something about him that kept nagging me to trust him and I found myself anticipating his real story. Turns out that Fowler is more then he seems and the lost he's suffered and the secrets he's kept only makes me love him more. Together Luna and Fowler make such an exceptional team, it wasn't easy at first, but the hard journey ahead and the need to keep each other safe can bond even the emptiest heart. I loved their endless spunk, witty banter and sarcastic dance. It may have took awhile to get there but the romance was incredibly swoon-worthy. This wasn't an all consuming insta-love, but a slow burning bubbling attraction and connection that was undeniable and inevitable and I loved every second of it.
Now, about that ending? Evil! Evil I tell you! I'm in need of the next book right this second and it kills me just thinking about waiting a year to find out what happened after that evil as hell cliff-hanger! Gah!!
Bottom line, this was an amazing book my friends. It's adventurous and wondrous and filled with action, suspense and the fantasy thrills you want in an escape. I seriously can't wait for more!
Fans will need this book in their life.
Instant love and my favoite Sophie Jordan book evah!