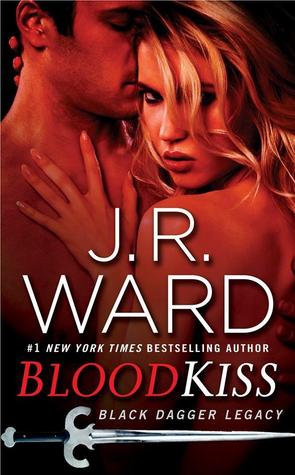 Blood Kiss
(Black Dagger Legacy #1)by J.R. Ward
Publisher: Signet
Release Date: December 1st, 2015
Purchase:
Amazon
The legacy of the Black Dagger Brotherhood continues in a spin-off series from the #1 New York Times bestselling author…

Paradise, blooded daughter of the king's First Advisor, is ready to break free from the restrictive life of an aristocratic female. Her strategy? Join the Black Dagger Brotherhood's training center program and learn to fight for herself, think for herself…be herself. It's a good plan, until everything goes wrong. The schooling is unfathomably difficult, the other recruits feel more like enemies than allies, and it's very clear that the Brother in charge, Butch O'Neal, a.k.a. the Dhestroyer, is having serious problems in his own life.

And that's before she falls in love with a fellow classmate. Craeg, a common civilian, is nothing her father would ever want for her, but everything she could ask for in a male. As an act of violence threatens to tear apart the entire program, and the erotic pull between them grows irresistible, Paradise is tested in ways she never anticipated—and left wondering whether she's strong enough to claim her own power…on the field, and off.
Arlene's Thoughts:
Despite my constant grumbling about how disappointed I've been in J.R. Ward for the last few installments of the Black Dagger Brotherhood, I've still kept my eye out for anything new she has coming. I think it's the constant craving I have to get a taste of the Ward I knew back in the beginning of BDB. Well with Blood Kiss, I finally got a reading experience of the Ward I remember! This book is a great kick-off to what I hope will be an amazing series.
In Blood Kiss, Paradise, the daughter of Wrath's First Advisor named Abalone has the chance to break the mold of what is expected of an aristocratic female vampire. She's accepted into the training program for the Black Dagger Brotherhood and given the opportunity to learn to fight for herself and protect her race. In the program, she meets a fellow recruit named Craeg, who is not from the glymera, but they immediately develop a deep connection that defies the laws of their race.
Throughout the story, we also get to revisit with Butch and Marissa and witness their struggles as they deal with the pressures of life.
Overall, I have to say Paradise was the star of the show. She was amazing! I loved her compassion, strength and determination to be set free of the constraints inherent in her race. I enjoyed seeing her develop a deep connection with Craeg. Their romance was HOT HOT HOT! It reminded me how Ward is capable to creating intense situations and wrapping a sensual layer over the moment.
I have to give honorable mention to Marissa, as well. She has her bad-ass moments in this book too. With her storyline came a nice secondary element to the novel, which was a murder mystery. I found myself intrigued, and was surprised at the outcome. I always enjoy when an author detours from predictability lane, and Ward did so wonderfully.
Overall, reading a story with two very strong female characters as the leads was pure bliss. I enjoyed the characters, chemistry and plot, which was all perfectly blended and developed quite nicely. Great story!
4 Snowflakes
Crystal's Thoughts:
This is the J.R. Ward that I love and adore! After having some trouble with her Black Dagger Brotherhood series lately I was a little scared to jump into this new spin off, but it was amazing and brought me back to the time when I fell in love with the Brothers.
This spin off series promises to focus more on the training center and the new recruits. This definitely happened and I loved seeing new characters that weren't so complicated make their way onto the pages, but what I really loved was that we got to see the Brothers and their mates! I fell in love with so many of them and I have missed them. In Ward's BDB books lately they've been so depressing and I found I really missed just the old books that weren't so drama filled. Blood Kiss is full of drama, but it's toned down from her other books and I found the pages filled with just the right amount of drama, lust, romance, and fun.
Blood Kiss was centered around Craeg and Paradise, but we got to see Butch and Marissa again. They aren't living the Happy Ever After I thought they were. A few things happen that trigger certain events and ultimately leads to a distance between the two. Like I said this has drama, but it wasn't depressing drama. I liked seeing these two work through their problems and honestly it was nice to see Marissa stand up to Butch. I always had a problem with the way he treated her and if you have read their book then you will know what I mean. He needed to bring her down from the pedestal he placed her on and let her live. I loved how they resolved things and I feel better about them now. I even have more respect for Butch.
Craeg and Paradise were hot and I think they had some great scenes together. The fact that they are training together made it fun and kept the tension at a high at all times. I really enjoyed reading their story. The only thing I missed was the MINE! Where was the MINE?! I look forward to that in each and every book and I can't say I wasn't disappointed when this little word didn't pop up at least once.
If every book is this way I will definitely forgive Ward for her crazy turn in her Black Dagger Brotherhood series. This spin off is a great distraction and I honestly can't wait to see who gets their story next. I'm kind of hoping that it's Axe because I think with his story we will get to see more V and well we all need more V in out lives!
4.5 snowflakes