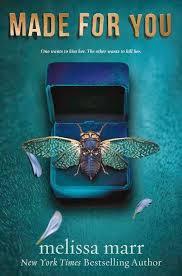 Made for You
by Melissa Marr
Publisher: HarperCollins
Release Date: September 16th, 2014
Purchase:
Amazon
Bestselling author of the Wicked Lovely books Melissa Marr's first contemporary YA novel is a twisted southern gothic tale of obsession, romance, and murder. A killer is obsessed with Eva Tilling. Can she stop him, or will he claim her?

When Eva Tilling wakes up in the hospital, she's confused—who in her sleepy little North Carolina town could have hit her with their car? And why? But before she can consider the question, she finds that she's awoken with a strange new skill: the ability to foresee people's deaths when they touch her. While she is recovering from the hit-and-run, Nate, an old flame, reappears, and the two must traverse their rocky past as they figure out how to use Eva's power to keep her friends—and themselves—alive. But while Eva and Nate grow closer, the killer grows increasingly frantic in his attempt to get to Eva.

For the first time, New York Times bestselling author Melissa Marr has applied her extraordinary talent to contemporary realism. Chilling twists, unrequited obsession, and high-stakes romance drive this Gothic, racy thriller—a story of small-town oppression and salvation. Melissa's fans, and every YA reader, will find its wild ride enthralling.
My thoughts:
I love Melissa Marr. She is by far one of my favorite authors and I know every time I pick up one of her books I will be in love with it. Made for You is another great addition to her growing line up and I am so so glad I got the chance to read this one.
Made for You is creepy and I mean CREEPY! I was on the edge of my seat the entire time while I read this and man was it amazing! We have Eva who is just trying to get through high school without stepping on any Southern toes and her group of friends who are too wrapped up in the Southern ways. Throughout the story we learn that certain people are acceptable to date while others are not because of their status in society. This plays a part in several places throughout the story and sets up the stage for our stalker.
This stalker really puts the S in stalker. I thought Marr did an amazing job at showing just how off their rocker they really were. Sometimes I find it hard to believe backstories, but this one was just crazy and I could really see the truth in it. Especially with certain current events taking place these days. I won't say more because I don't want to give anything away, but I can guarantee if you read this you will see what I mean.
The only part that threw me was the death vision stuff. Every time that part would come up I felt like it just didn't fit. I kept thinking why is this in here! The story doesn't need it! But I stand corrected. Marr uses this storyline beautifully and by the end I understood why Eva needed these death visions. I am curious to know if there will be a sequel since Eva does have these abilities and I can definitely see a potential for more stories.
One more thing I have to talk about is the whole parental role. Again Melissa Marr is amazing and finally shows what parents are for. Were Eva's parents there for her in the beginning, no. But they more than made up for that and it shows readers the YA can have parents in them. I have had so many problems with this in the past and I know why parents are usually left out, but it just bothers me. Marr does such a great job bringing Eva's parents into the story, but she still kept Eva strong and independent. Loved loved loved this. Do I want parents in every book no not at all, but they should have a place in more than they do and this book is a great example of how they can be woven in.
I think this is my first official stalker YA book that I have loved and I just want more! The whole story fit to me and even though I was super shocked at who the villain turned out to be I still think it was brilliant! Marr did a wonderful job setting up her thriller to be believeable and it was definitely a job well done!