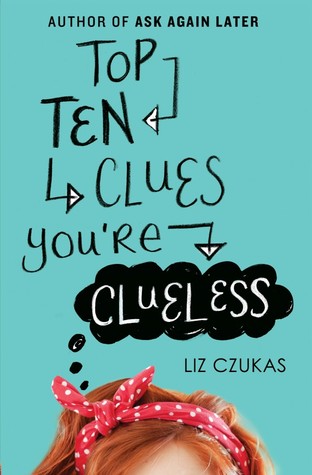 Top Five Things That Are Ruining Chloe's Day

5) Working the 6:30 a.m. shift at GoodFoods Market

4) Crashing a cart into a customer's car right in front of her snarky coworker Sammi

3) Trying to rock the "drowned rat" look after being caught in a snowstorm

2) Making zero progress with her crush, Tyson (see #3)

1) Being accused—along with her fellow teenage employees—of stealing upwards of $10,000

Chloe would rather be anywhere than locked in work jail (aka the break room) with five of her coworkers . . . even if one of them is Tyson. But if they can band together to clear their names, what looks like a total disaster might just make Chloe's list of Top Ten Best Moments.
My Thoughts:
Ha! What a fun read. After reading Liz Czukas debut novel,
Ask Again Later
, I knew that I had to get my hands on this book as soon as I saw it was up for grabs on galley. Liz is rapidly becoming my go-to girl for when ever I'm in need of a fun light escape. Top Ten Clues You're Clueless, is another fun filled read with great banter, funny zingers and comedic mishaps along the way. But this also provides great insight to what it's like to work at a grocery store. The odd customers, grocery guesses and cart crashes. It reminded me of my teen days working at a restaurant during a blackout with nothing much to do besides hang out, goof around and start a food fight. Good times.
This may be in Chloe's point of view, but really, it was all of these characters together that stood out front and centre.
Chloe, Tyson, Gabe, Sammie, Micah and Zaina aren't what you would call friends, more like work acquaintances. But when your stuck in a grocery store after hours on Christmas Eve being accused of stealing from the charity donation box and have to come together to figure out who the culprit is to clear their names, the experience has its way of bonding them in unexpected ways. For me, it was these six characters that totally owned this. Chloe is super cute with her endless love of making lists. Tyson is just your average nice guy, quick to defend and help out. Gabe is your typical punk-fun loving guy with daddy issues, Sammie is all hard walls and attitude, Micah is your adorable loving geek and Zaina is beautiful, sweet and shy. I loved each of their voices, their personalities and their infectious chemistry. They made a bad situation bearable in that cutesy teamwork way that made the whole night entertaining and incredibly worth while.
The writing is wonderful, but sometimes it did feel on the youngish side, but it never stopped me from enjoying the escape. I really enjoyed the ending and was even shocked about who actually stole the money and even though this doesn't have a ton of romance, it was those little moments that still made my heart all warm and giddy.
Bottom line, this was a completely charming and amusing whodunit contemporary that was nothing short of adorable. With it's Breakfast Club feels, cast of witty characters and terrific writing, Top Ten Clues You're Clueless, will be sure to put a smile on your face just in time for the holiday season. So cute!