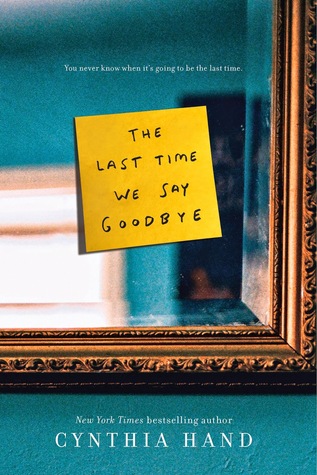 There's death all around us.

We just don't pay attention.

Until we do.

The last time Lex was happy, it was before. When she had a family that was whole. A boyfriend she loved. Friends who didn't look at her like she might break down at any moment.

Now she's just the girl whose brother killed himself. And it feels like that's all she'll ever be.

As Lex starts to put her life back together, she tries to block out what happened the night Tyler died. But there's a secret she hasn't told anyone-a text Tyler sent, that could have changed everything.

Lex's brother is gone. But Lex is about to discover that a ghost doesn't have to be real to keep you from moving on.

From New York Times bestselling author Cynthia Hand, The Last Time We Say Goodbye is a gorgeous and heart-wrenching story of love, loss, and letting go.
My Thoughts:
Now, normally this is the kind of issue I would usually shy away from. There is a reason I don't read suicide or cancer/sickness reads. They just feel to real and my heart just isn't equipped to handle such sadness and despair, but being a huge fan of Hand's
Unearthly
series, I made an exception. And I'm glad I did.
First off, I think what hit me the hardest was Hand's dedication. This is a personal journey that must have been so very hard to express, but I applaud Hands bravery and courage for telling this story.
The Last Time We Say Goodbye
, is an emotionally heartbreaking story about death, lost, grief and finding your own way to move on. After the death of her brother Ty, Lex wasn't in a good place. She broke up with her boyfriend, stopped being social and basically went with the motions of everyday life without her brother. So when her therapist recommended Lex to start writing in a journal about random thoughts and feelings and even about Tyler, Lex was skeptical it would work, but as she started to think about the first and last happy time she shared with her brother, Lex started to think about everything else and finally finds the strength she needed to move on.
This is such a beautiful story. Seriously. I'm not one to cry in books, but once in awhile a story will come along and just hit all the feels. I have a huge family and I couldn't see myself without any of them so this one really got to me. Given the issues in this book, know that there is no romance, no warm and fuzzy's, no real laughter and no really happy times. But what we do get are moments. Beautiful moments of good times and bad times and really ugly times. But it's through these moments where we see what Lex has been through. The dreams and memories is what really connected me the most to Ty. It broke my heart. It hurts to remember and it hurts to forget, but Lex found a way to beat down her demons, face her ghost and do the things that she would have thought Ty wanted. I also thought Lex was written very realistically. Her anger and confusion and her despair felt so real and while I know she wanted to give up, she didn't and she never let her mother give up either. She's remarkable. I also really loved Steven as well. Now here is a guy that you want by your side and I loved his never ending support, kindness and love.
All in all, this book was truly beautiful. It makes you think, and I mean really think about the people in your life. Old grudges, stupid fights, the what ifs, the last time you said I love you and all the unsaid things you wish you could have said. This is the kind of story that can touch anyone and everyone that has a heartbeat. Heartbreaking and heart lifting, this was a beautiful book that captures the pain of losing a loved one and finding a way to move on. Completely recommended.