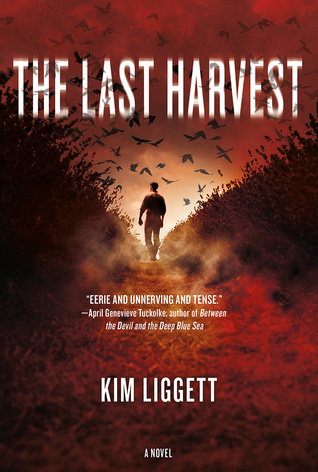 The Last Harvest
by Kim Liggett
Publisher: Tor Teen
Release Date: January 10th, 2017
Purchase:
Amazon
"I plead the blood."

Those were the last words seventeen-year-old golden boy quarterback Clay Tate heard rattling from his dad's throat when he discovered him dying on the barn floor of the Neely Cattle Ranch, clutching a crucifix to his chest.

Now, on the first anniversary of the Midland, Oklahoma slaughter, the whole town's looking at Clay like he might be next to go over the edge. Clay wants to forget the past, but the sons and daughters of the Preservation Society—a group of prominent farmers his dad accused of devil worship—won't leave him alone. Including Ali, his longtime crush, who suddenly wants to reignite their romance after a year of silence, and hated rival Tyler Neely, who's behaving like they're old friends.

Even as Clay tries to reassure himself, creepy glances turn to sinister stares and strange coincidences build to gruesome rituals—but when he can never prove that any of it happened, Clay worries he might be following his dad down the path to insanity...or that something far more terrifying lies in wait around the corner.
My Thoughts:
This book is EVERYTHING! I have been reading creepy reads for a long time and The Last Harvest tops my favorites of ALL.TIME!!! Yes it is that good!!
Right from the beginning Liggett throws her readers into a story filled with dark and scary elements. From the breeding barn, wheat fields, and Preservation Society you can just feel the sinister smoke following Clay around. It was AMAZING!! I don't think any other story has been this way and I loved it!
The story itself was dark and had a religious tone throughout, but it wasn't too heavy handed and I honestly liked the way it was woven throughout the story. It plays a huge part in the overall plot, but the author didn't let it get too preachy which I appreciated. It felt right inside the story and I don't think it would have worked otherwise. There is one part that's a bit aggressive and bothered me, but I am guessing the author chose to throw that particular scene in to show how bad the church was and it's thinking. Not quite sure why it was necessary, but I am grateful it was only one scene and the author chose to move on.
Clay was a great character. He was flawed, but he just wanted to help his family after his fathers gruesome death. That's another thing I liked about this, Liggett didn't throw all the gory at you at one time she let things build. Like with Clay's dads death, you know it was gruesome, but she only throws bits and pieces (okay that's a bit gross if you have read the story you will understand...ick) at you and you don't really see the full picture until later in the story. I liked this because I felt like the story was building into something spectacular and I was right. Okay back to the characters, Clay was awesome. I think the played his part right and didn't come across as too good or too bad. He tried to be the man of the house, but when you are seventeen and well things beyond your control start happening one can't expect to be perfect. I appreciated that he stood his ground throughout and he did the best he could.
I also liked the town feel. Like I said this author painted a great picture for her thriller and this small town was a great addition. It sounds cliche, but it worked and she did a great job weaving in the history to show why this town was the way it was. It all just really worked!
I honestly can't think of one thing I would change and for me that's rare. The pacing, flow, writing, characters, setting, and plot were all key pieces to this masterpiece and they all pulled their own weight. Side note I would love to see this on the big screen!!
My favorite part was the ending!!! OMG! I don't think I have ever been as surprised at an ending before! I won't spoil anything, but let me just say Kim Liggett has become my now go to author for creepy!! I loved the way she chose to end The Last Harvest and I won't lie I had nightmares last night about that ending!! SO.MUCH.FUN!! If you love creepy thrillers this book is definitely for you!!!!!!!!