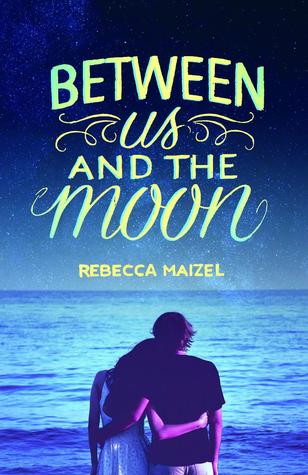 Between Us and the Moon by Rebecca Maizel
Release Date: June 30, 2015
Publisher: Harper Teen
A luminous young adult novel that evokes Judy Blume's Forever for a new generation.

Ever since Sarah was born, she's lived in the shadow of her beautiful older sister, Scarlett. But this summer on Cape Cod, she's determined to finally grow up. Then she meets gorgeous college boy Andrew. He sees her as the girl she wants to be. A girl who's older than she is. A girl like Scarlett.

Before she knows what's happened, one little lie has transformed into something real. And by the end of August, she might have to choose between falling in love, and finding herself.

Fans of Jenny Han and Stephanie Perkins are destined to fall for this story about how life and love are impossible to predict.
My Thoughts:
Sarah (nicknamed Bean) is used to living in the shadow of her dashing older sister Scarlett. Whereas Scarlet is popular, beautiful and graceful, Bean is used to being regarded as geeky and logical, as someone who is more interested about the gathering of information than socializing with her peers. After Bean gets dumped by her boyfriend for being too logical and for rather watching the world than living in it, she thinks that in order for her to be desirable as a friend or even a romantic interest for someone, she needs to be more like Scarlett. When she travels to Cape Cod with her family for the summer, she devices "Project Scarlett", an attempt to fit in and to see what is it in Scarlett that makes her so popular and so on demand among her peers.
Though Bean only turns 16 in this novel (which means that she is 8 years younger than me), I would it quite easy to identify with her. She's academically inclined and tends to always take the logical route when it comes to making decisions. She has a tendency to overthink EVERYTHING, which is definitely something I am able to identify and she tends to think that in order for her to be liked by other people, she needs to be something else than she actually is. She is more of a watcher, as someone who studies the way the people around her act, rather than a doer. Between Us and the Moon is a story of her coming to the realization that rather than being someone else, it is okay for her to be just as she is and that for people to like her, she needs to be honest and true to herself and those around her.
Bean's "project Scarlett" proves to be a success when she meets Andrew on the beach. The only problem is that whereas Bean is hardly 16, Andrew is already 19. Thinking that age is just a number, Bean lies that she is 18 and about to start at MIT. As the relationship between the two develops, Bean gets more and more uncomfortable about the fact that she is lying for Andrew. But how can she be honest when she knows that he will probably freak out and leave her. The more time they spend together, the more Bean starts to realize that Andrew really seems to like the real her with the geekiness and all. Though it could be argued that the whole relationship is built on a lie, I felt like the feelings between the two characters were real. Though I was able to understand Bean's decision to keep up with the lie, I was occasionally annoyed by her naivety and her irresponsibility – rather than thinking much about the consequences of the lie for Andrew, she is frequently occupied with thinking how the reveal of the lie would affect her. I think it is with this treatment of the relationship that Bean's young age becomes most evident – she is inexperienced with relationships and in love with someone she knows that probably would discard her if he knew her real age.
The family dynamics of Between Us and the Moon were to some extent even more interesting to read about than the relationship between Bean and Andrew. For most of the time, though her parents love her, it seems like they don't really see the real her – they expect certain type of behavior from her and do not seem to notice the changes that are taken place as a result of "project Scarlett". The problematic relationship between Bean and Scarlett is interesting, but unfortunately one that is not discovered enough within the novel. For too long, Scarlett seems like the stereotypical mean girl/sister and when she finally is given some depth, it feels like it is too little too late.
Between Us and the Moon is a well written, slow-burning novel that impressed me with character development, especially when it comes to the main character Bean. Within the narrative, she grows from an unsure, naïve and occasionally irresponsible (in relation to Andrew) girl to a young woman capable of embracing her true self and the fact that it is okay for her to be just the way she is. Though I did enjoy the romance between Bean and Andrew, I found myself more attached to Bean and her growth, cheering for her and her development as a character. Despite the fact that Bean annoyed me at points in addition to the slightly unbelievable time Bean is able to keep up with her lie, Between Us and the Moon kept me entertained and really made me look forward to summer.
3.5 Snowflakes