Today on WinterHaven Books I am participating in the blog tour for Where Futures End by Parker Peevyhouse! As part of my stop I have an amazing novella to share with you as well as giveaway!!

When We Ended It All (Quinn)
"On the first day, you will tell your story. On the second, I will tell mine. On the third, one of us will die. You will choose who."
One hundred years from now, Quinn lives in the woods near an apocalyptic ruin. During her rite of passage, she meets a boy who claims to be from the Other Place. But no one knows the stories of the Other Place better than Quinn, and Quinn senses there's something not quite right about the tale this stranger tells her.
Each part of WHERE FUTURES END explores the storytelling power of a different medium: novels and movies in the first part, TV and the Internet in the second part, music in the third part, video games in the fourth part, and oral storytelling in the fifth part. I wanted this fifth part, in which Quinn and the stranger tell each other stories, to have the feel of a fairy tale. Since WHERE FUTURES END often alludes to Alice's Adventures In Wonderland, I decided to base this final section on the tale that supposedly inspired "The Jabberwocky." This old English legend, called "The Lambton Wyrm," is about a tiny monster that grows so large it surrounds the entire countryside and must be slayed.
When Quinn listens to the stranger's story about a monster that must be defeated, the reader can see how the legends about the Other Place have evolved over the course of the book. Together the reader and Quinn must use their knowledge of the Other Place to decide whether this stranger can be trusted, and then must try to figure out the truth at the heart of the stranger's story.
Finally, the puzzle pieces of WHERE FUTURES END come together, and I hope the reader will have enjoyed putting them together.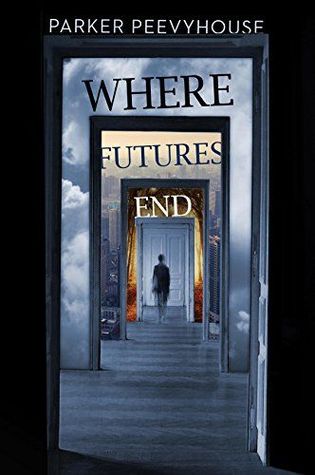 Where Futures End
by Parker Peeveyhouse
Publisher: Kathy Dawson Books
Release Date: February 9th, 2016
Purchase:
Amazon
Five teens.
Five futures.
Two worlds.
One ending.

One year from now, Dylan develops a sixth sense that allows him to glimpse another world.

Ten years from now, Brixney must get more hits on her social media feed or risk being stuck in a debtors' colony.

Thirty years from now, Epony scrubs her entire online profile from the web and goes "High Concept."

Sixty years from now, Reef struggles to survive in a city turned virtual gameboard.

And more than a hundred years from now, Quinn uncovers the alarming secret that links them all.

Five people, divided by time, will determine the fate of us all. These are stories of a world bent on destroying itself, and of the alternate world that might be its savior--unless it's too late.
Find Parker
I don't know about you, but this makes me want to dive into Where Futures End right now!
Giveaway time! Penguin has graciously offered to send one lucky reader their very own hardcover copy of Where Futures End! Open to US residents only.
Good Luck!