Today on WinterHaven Books I am participating in the blog tour for Red: The True Story of Red Riding Hood by Liesl Shurtliff! For my stop today I am sharing my thoughts on this fun book and I also have a giveaway to share!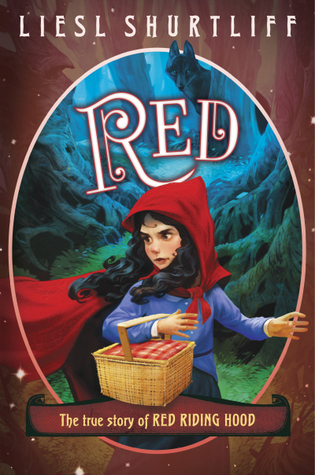 Red: The True Story of Red Riding Hood
by Liesl Shurtliff
Publisher: Knopf Books for Young Readers
Release Date: April 12, 2016
Red is not afraid of the big bad wolf. She's not afraid of anything . . . except magic.
But when Red's granny falls ill, it seems that only magic can save her, and fearless Red is forced to confront her one weakness.

With the help of a blond, porridge-sampling nuisance called Goldie, Red goes on a quest to cure Granny. Her journey takes her through dwarves' caverns to a haunted well and a beast's castle. All the while, Red and Goldie are followed by a wolf and a huntsman—two mortal enemies who seek the girls' help to defeat each other. And one of them just might have the magical solution Red is looking for. . . .
My Thoughts:
I'm usually not a fan of fairy tale retellings, but when this book came across my lap I just couldn't pass it up! I had never seen a retelling of Red Riding Hood and I can say now after reading that the bar has been set high for all others!
I really enjoyed this story! I've started to read quite a few middle grade books as of late, and I am telling these authors are hitting these stories out of the park! This story is no exception! I truly loved falling into this very creative world that Shurtliff has created and I have to give her major credit for taking a story I loved as a child and turning it upside down in the best way possible. I often think it takes true guts to retell a tale that everyone knows and Ms.Shurtliff definitely has guts!
I think my favorite part of this though was Red. She was beyond fierce and could honestly give quite a few YA characters a run for their money. She seemed wise beyond her years and I really enjoyed falling into her story and getting to learn about hew new world filled with magic and adventure.
I also really enjoyed seeing all kinds of characters pop up from other fairy tales! Such a fun idea! I would one day love to read the rest of this series because it has truly captured my heart!
If you are looking for a great retelling this is for you! Ms.Shurtliff does a wonderful job at creating something new while still being true to the roots of the story. I know this will not be my last title by her!
5 snowflakes
Giveaway time!